Collapse In WWE Shares Trigger Twitter Pun-Mania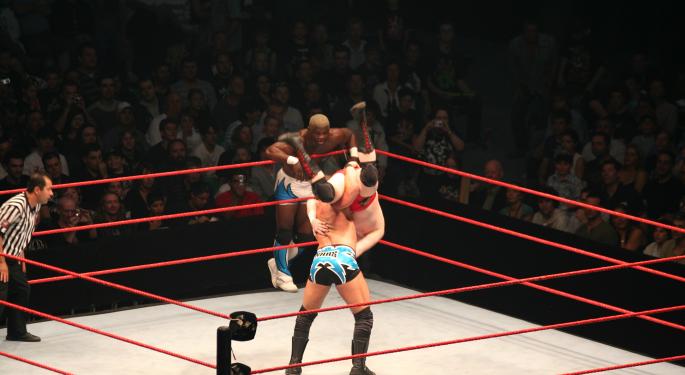 The street already knows the scoop about World Wrestling Entertainment (NYSE: WWE) and its user guidance that lead shares to plummet nearly 50 percent in Friday's pre-market trading. The news is covered and most traders have already been informed.
That said, let's focus on what's really important here: the Twitter storm it triggered.
See also: WWE Has Monster Run, But Could It Soon Be Slammed?
One thing the Internet can always be counted on is for a steady stream of jokes about current events, and Internet did not disappoint, releasing a torrent of wrestling-related puns.
Here are some highlights... or lowlights:
Body slammed. $WWE down 44% #premarket! Investors not happy with new TV deal with $CMCSA's NBCUniversal. Concerns about earnings as well.

— Paul R. La Monica (@LaMonicaBuzz) May 16, 2014
How could there not be a quip about bodyslams?
This hurts more than a body slam.. $WWE shares down nearly 40% in pre-market.

— Jo Ling Kent (@jolingkent) May 16, 2014
Looks like we have another...
Holy Piledriver - Pro Wrestling meets Mr Market World Wrestling Entertainment $WWE shares down 49% pre bell $SPX

— Sir Chasm (@deranged_trader) May 16, 2014
Now we have some piledriver commentary.
$WWE Starting the day down nearly 50%. BREAKING!!! They just realized all those matches are fixed!! #WorldWrestling

— Timothy Anderson (@TJAnderson1) May 16, 2014
The matches may be fixed, but the stock certainly isn't!
@captain9nyr $wwe clotheslined. Couldn't resist.

— MoMo (@ChartMoMo) May 16, 2014
Neither could we...
$WWE hired the undertaker vs an underwriter

— jake (@CAMAR024) May 16, 2014
Whoops.
WWE shares getting body slammed today, down 42% on thought that streaming subscription biz is disappointing

— darren rovell (@darrenrovell) May 16, 2014
Another body slam comment, just for good measure.
@lecuyerjake WOuld you say $WWE is....down for the count?

— Jason Shubnell (@JasonShubnell) May 16, 2014
The alley-oop...
@JasonShubnell @lecuyerjake Remember, it'll get the 2 count and pop back up just before 3.

— Wizard of Cheese (@gpaone) May 16, 2014
To the dunk! What did we learn here? Twitter loves a good pun, especially if it's at a major company's expense.
View Comments and Join the Discussion!
Posted-In: twitter WWEMovers Best of Benzinga