BlackBerry Late-Day Boost From Blog Post Not Enough To Mask Underlying Problems
BlackBerry (NASDAQ: BBRY) is fading the late afternoon rip it just experienced after the company posted a write-up on its blog.
The stock ran from $7.22 to $7.44, a move of roughly three percent, before fading that spike and trading around $7.33.
In the post, BlackBerry commented about its cash holdings of $2.7 billion and the company's efforts to slash its burn rate. The author uses the cash metric as its basis to boast about the balance sheet, while addressing the comments of BlackBerry's two loudest critics, Good Technology and MobileIron.
Related: Housing Drag As NAHB Numbers Come In Four Points Lower Than Expected

On the surface, the cash position sounds great, but subtract total liabilities and divide that number by the diluted shares outstanding (to account for any convertible shares) and BlackBerry has a cash asset value per share of negative $2, an improvement over last year's negative $3.54 cash asset value per share, but still negative nonetheless.
The company has also been deteriorating in regards to inventory, receivables and payables periods: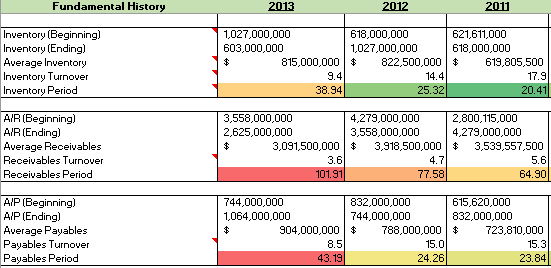 To highlight just the one cash metric and then attempt to lift its own standing by bringing down other metrics isn't the way for BlackBerry to generate shareholder value.  The company has taken active measures that are worth highlighting to do just that -- increase value.
BlackBerry has no long-term debt. the company is selling off assets in an effort to consolidate its business model in order to better compete in an industry it once dominated.  Back in March, Benzinga shared this image: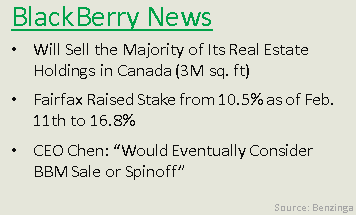 BlackBerry announced 10 days ago that the real estate holdings sale in Canada would go through, with a price of $278 million. The company is announcing and following through on measures to actively pursue a turn-around.
What is unclear is how the company will be able to utilize cash as a means to improve its balance sheet. Improving the balance sheet would draw in more investors with size like Fairfax, so BlackBerry could invest heavily in R&D to capture new patents that will organically improve the income statement.  Selling assets will only go so far.  At some point, and very soon, BlackBerry needs to support itself with product sales.
Posted-In: News Asset Sales Movers
View Comments and Join the Discussion!