Make The World Better: David Rubenstein Discusses China, US Economy At SALT 2014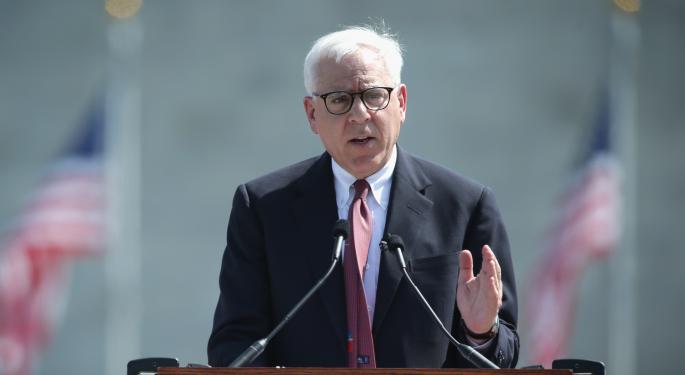 David Rubenstein, co-Founder and co-CEO of The Carlyle Group (NASDAQ: CG), sat down with the Gregory Fleming, President of Morgan Stanley Wealth Management & Investment Management, to discuss the economy, markets and Washington.
Rubenstein's discussion focused in on the Carlyle Group's formation. In 1987, Rubenstein started the Carlyle group with $5 million from four investors. Until then, KKR ran a single strategy firm and that was by design. Carlyle Group was formed in a free manner to allow, "multiple funds to be housed under a single brand, like Fidelity."
Rubenstein revolutionized the way private equity (PE) managers managed money.
Related: 2014 SALT Panelists Agree: We Need True Leadership in Politics!
Fleming shifted the conversation toward China, discussing the importance of China and the global economy.
"China is the most attractive place to invest in the world to invest outside the United States. If you invest and know what you're doing, it'll be a great investment," said Rubenstein. He believes that as China grows and the population migrates to urban areas, the country will continue to transition from being export-driven to consuming the goods they produce, driving the invest-in-China thesis.
On the United States, Rubenstein had a view contrary to some of Wednesday's panelists. Getting right to the point, Rubenstein opined on the economy.
"We need to reduce debt and reduce income inequality," stated Rubenstein, "[but] the tax system is fairer than people perceive it to be."
Rubenstein believes the economy isn't in bad shape, but that it still faces slow growth ahead. He continued, "the deficit reduction plan is to reduce it from $10 trillion to $6 trillion, which is still huge [percent increase] on $16 or $17 trillion."
He notes that an emotionally charged fall election will keep congress from making any meaningful changes. Moving towards inflation, he stated, "Inflation isn't terrible if it's reasonable. Three to 3.5 percent wouldn't be terrible. It would help the economy."
To be clear, Rubenstein doesn't think that inflation is the way out of the country's economic woes: "The best way to fix the economy is to grow."
As Janet Yellen tapers and QE3 winds down, Rubenstein said unemployment isn't going to change much. He doesn't think Yellen knows how the exit will look, but he hypothesizes that, "some time after that [end of QE], rates will rise."
Wrapping up his chat, he reiterated Ken Langone's call to give from Wednesday morning. He charges the audience with giving away to "scholarships, hospitals, and philanthropy."
As he ages, Rubenstein refers to his charitable endeavours as "sprinting to the finish line [and working to] give my money away in a smart way and make the world a better place."
Posted-In: David Rubenstein Gregory Fleming Janet YellenNews Events Global Economics Hot Best of Benzinga
View Comments and Join the Discussion!