2014 SALT Panelists Agree: We Need True Leadership in Politics!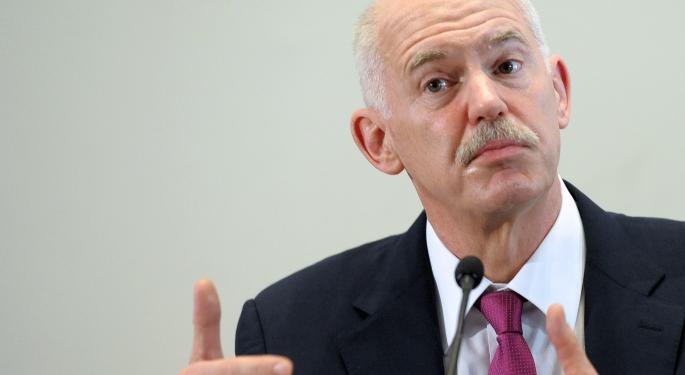 "In politics, you have to take risks, otherwise you're part of the problem, not the solution," said Former Greek Prime Minister George Papandreou, speaking on his attempts to stabilize Greek bonds and drive their value up.
Greece is part of the European recovery as they continue to make huge fiscal strides, cutting the deficit by $1 trillion US equivalent. Papandreou thinks the emphasis on austerity was misplaced, as the system needs reform. The economics of the peripheral countries need to be reorganized, not forced into austerity.
Cooperation and a stronger Europe will be crucial to the success, as Draghi's comments proved. Draghi gave the system confidence when he came out and offered to do, "whatever it takes."
See also: 2014 SALT Conference Kicks Off In High Gear With Ken Langone
Former Congressman Harold Ford, Jr. followed Papandreou and in his own comments reiterated the importance of cross aisle cooperation. He cautioned that when one party gets too lopsided, it causes laziness among party members.
Politicians aren't taking risks today. It's a failure in leadership on both sides of the aisle that is causing his concerns over the future of the economy. Ford says, "Challenging ideas allows meaningful actions to take place."
Ford also recognizes the headwinds for President Obama's second term. First is that it has been dominated by foreign policy events that the administration didn't think would have problems, such as Ukraine and Russia. Second, the president will face tougher choices on healthcare and the economy.
Ford then went on to say that while President Obama has faced tough rhetoric around his anti-business and pro-union platforms, he hasn't been as hard or easy as it seems. According to Ford, businesses haven't been direct objects of aggression by the administration like campaign rhetoric suggested and big companies haven't faced massive unionizations.
Both political candidates made their position very clear. Policy makers are not making the tough decisions and their inaction has caused global economic failures to serve the citizens they represent.
Posted-In: George Papandreou Harold Ford SALT Conference 2014News Politics Events Hot General Best of Benzinga
View Comments and Join the Discussion!