2014 SALT Conference Kicks Off In High Gear With Ken Langone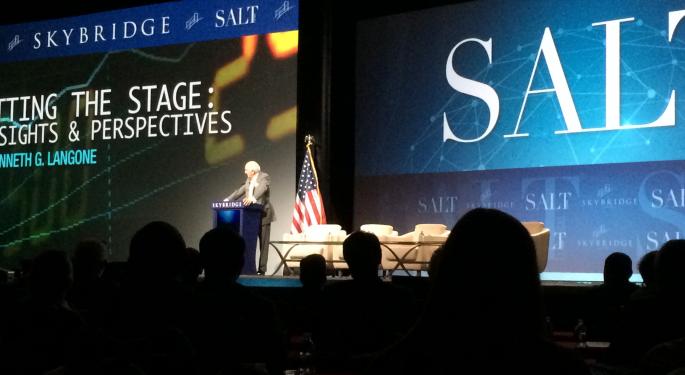 Ken Langone came out swinging to kick off the 2014 SALT Conference in Las Vegas.
"Regulation is a huge barrier to progress in America," started Langone as he dove right into his remarks.
Langone's speech covered three primary topics: regulation as a destructive force, the biggest challenges of moving forward and charity.
"In the last seven or so years, the world has changed dramatically," he said. Langone focused his discussion on how regulation has turned financiers from a positive force driving the future to villains stealing money from hard-working Americans.
"We turned the world upside down."
Related: IPO Lookout: Signs Of Life In IPO Land
When Lagone was young, he explained that if a borrower made a commitment to repay someone, then they honor the commitment, and if not, the lender would make them pay. Now, he says, "if you try to force someone to honor their obligation, you're a villain."
Moving forward, the biggest challenge Langone sees is, "how do we restore the elegance of the banks that young people will want to go there, work there, and pursue their careers there?"
"The very people we're trying to close the gap for, we're widening," Langone contiued. When a person buys a house, their monthly payment is fixed. As the person grows in their career, historically, they would earn more money and their disposable income would increase relative to the payments they made to their house. Langone says that isn't happening.
"When a person buys a house, they may get a raise, or they may not, but they're not getting any income increase."
Langone wrapped up his speech by urging participants to give to charity, saying, "Money doesn't buy happiness, but neither does poverty. You can do so much more when you're successful."
He questioned the reason that Wounded Warriors has to spend so much on TV ads to solicit money to aid veterans.
"Why should someone who lost part of their body in service to our country be paraded on TV so that someone will help?"
Langone wrapped up by reiterating that people should make sure to give back. "Get involved. Make a difference."
Posted-In: Ken Langone SALT ConferenceNews Events Hot Media Best of Benzinga
View Comments and Join the Discussion!