GameStop Faces Serious Threat From Digital Downloads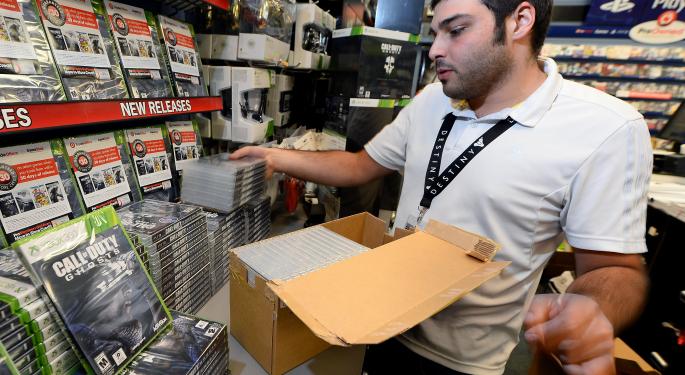 GameStop (NYSE: GME) might be in for a rough ride as signs continue to allude to the fact that the company will not play as big of a part in the future of gaming as previously thought.
When GameStop reported its fourth quarter 2013 results on March 27, the company fell short of the consensus estimate on both the bottom and top line despite the recent launches of next generation consoles.
At the same time, the company announced that it will open 300 to 400 retail locations with a focus of non-gaming related items. GameStop also announced it will lower its video game store count by around two percent in 2014.
Investors have good reason to show concern over GameStop's result given the fact that video game publishers like Activision Blizzard (NASDAQ: ATVI) and Electronic Arts (NYSE: EA) to this day are still reporting stellar quarter results.
Research firm Gartner is forecasting the video game console market will reach $55.05 billion in worldwide sales by 2015, a jump from $37.4 billion in 2012.
GameStop operates nearly 7,000 retail stores worldwide with a strong presence spread across key markets in North America and Europe and at first glance may appear to be poised to benefit from a growing industry.
So why are shares of GameStop down over three percent year over year and lower by around 35 percent from six-months ago?
Evan Wilson of Pacific Crest may have the answer.
In a note to clients on Monday, Wilson explains that GameStop is simply a specialty retailer with a declining end market. GameStop's largest exposure is physical videogame sales, which up until recently was the company's fastest-growing segment.
Not anymore, according to Wilson.
"The growth of software sales by the public publishers has tracked relatively in line with GameStop's new software growth since at least 2011," Wilson wrote. "In CQ4, we saw a big divergence for the first time in recent history between the reported sales of the major publishers and GameStop's results."
See also: FCC Chairman Set To Revise Proposed Net Neutrality Rules
Wilson explains that both Electronic Arts and Activision Blizzard saw noticeable upside in their digital business to the point where downloads on next-generation consoles are now two to three times greater than previous console generations.
"Depending on the games, depending on the platform, you can put that anywhere between 12% and 15%," said Peter Moore, Chief Operating Officer of Electronic Arts during the company's fourth quarter conference call in early May. "So it's not yet material, but it's becoming an important part of our business going forward here. So that as I say is about two to three times the rate that we saw on Xbox 360 and the PlayStation 3 and we expect that trend to continue and of course its good for the consumer, as well as being good for us from a margin perspective."
Electronic Arts reported a fourth quarter 2014 non-GAAP digital net revenue of $550 million, exceeding the company's guidance by $93 million. Looking forward to fiscal 2015, management is projecting digital products and services will account for more than 50 percent of the company's business.
This new trend is creating what Wilson labels as a "profitless prosperity" where sales of lower margin next-generation hardware at GameStop are driving more digital downloads, cutting in to the company's software opportunity sales.
The era of this "profitless prosperity" is only beginning with April's NPD data (due out on May 15) merely confirming the digital divide.
"So far in GameStop's April-ending quarter, February and March are down 20 percent in aggregate," Wilson wrote. The analyst added that April's industry-wide sales needs to grow 90 percent to get close to his four percent new software forecast growth for the company.
With no major releases in the month, growth looks unlikely and the company could be setting itself up for another disappointing quarter.
Wilson explains that GameStop's growth will be challenging with the recent move to expand into new retail categories being "a clear indication that its previous optimism about being a big part of the future of digital games has faded."
GameStop would need to grow its earnings per share by $1.50 (to $4.50 from $3) in the next two years to keep up with consensus estimates.
The last time GameStop achieved a $1.50 boost to earnings per share it took six years to accomplish. As such, Wilson believes "there is risk [GameStop] will continue to disappoint."
Pacific Crest rates shares Underperform with no set price target. However, under a bear case scenario shares can trade as low as $20. Under a bull case scenario, shares can trade as high as $45.
Posted-In: Activision Blizzard Console Sales Digital Downloads electronic arts Evan Wilson gamestopManagement Tech Best of Benzinga
View Comments and Join the Discussion!