FCC Chairman Set To Revise Proposed Net Neutrality Rules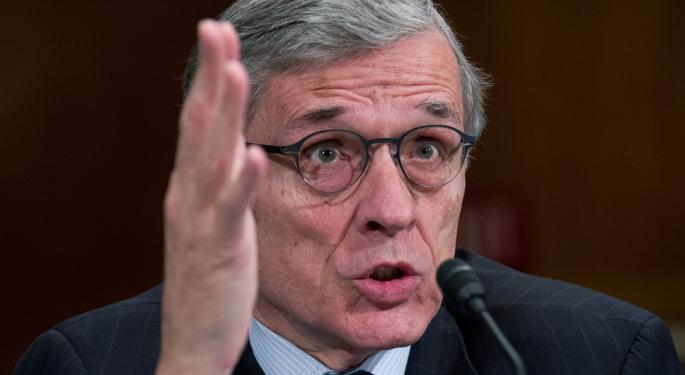 Federal Communications Commission Chairman Tom Wheeler had a change of heart, according to The Wall Street Journal. Prodded by complaints directly and in the media, Wheeler was set to release revised proposed rules regarding regulation of broadband Internet that would prevent companies from dividing Internet traffic into fast and slow lanes.
Specifically, the new rules would address criticism the agency received over last month's proposal that would allow Internet providers to force companies to pay for faster delivery of web content to customers.
Google (NASDAQ: GOOG), Netflix (NASDAQ: NFLX) and hundreds of other content providers have complained that Comcast (NASDAQ: CMCSA), AT&T (NYSE: T) and other providers would be allowed to create an Internet that was not neutral but was actually divided into slow and fast lanes, based on payment.
Related: Web Giants Sign Net Neutrality Letter, But Apple Is MIA
According to The Wall Street Journal, in the new proposal, Wheeler would include language stating that the FCC would scrutinize all deals to make sure broadband providers do not treat nonpaying companies unfairly.
Going a bit further, the new draft would also seek public comment about whether "paid prioritization" should be banned all together unless the same exact terms were offered to everyone.
In addition, comments would be sought over whether broadband Internet service should be considered a public utility – something the FCC has not done up to this point.
While the "Internet as utility" concept has been wildly popular with content providers, broadband providers like Comcast have opposed such a move claiming it would stifle innovation and investment in infrastructure.
The primary issue seemed to revolve around whether the FCC could "fix" a proposal that many deemed flawed from the beginning.
The Verge quoted one unnamed FCC source who said, "The draft is explicit that the goal is to find the best approach to ensure the Internet remains open and prevent any practices that threaten it."
That might be the goal, but it was not clear whether the changes advocated by Wheeler were an adequate response to those critics who felt the very essence of net neutrality was at risk.
For example, the notion that the FCC would scrutinize all proposed deals caused some net neutrality advocates to worry that in a post-Wheeler FCC administration that scrutiny could become weak or even non-existent.
On the other hand, the fact Wheeler was willing to alter the proposal based on overwhelming public pressure was encouraging to supporters of net neutrality.
Inside the FCC, opinion was split with one official reportedly saying, "We may not agree on the course, but we agree the road we're on is to disaster."
At the time of this writing, Jim Probasco had no position in any mentioned securities.
View Comments and Join the Discussion!
Posted-In: AT&T Comcast Federal Communications Commission Google Netflix Tom WheelerEvents Media Best of Benzinga