IPO Lookout For The Week Of May 5: Alder Biopharma, Cheetah Mobile, GasLog Partners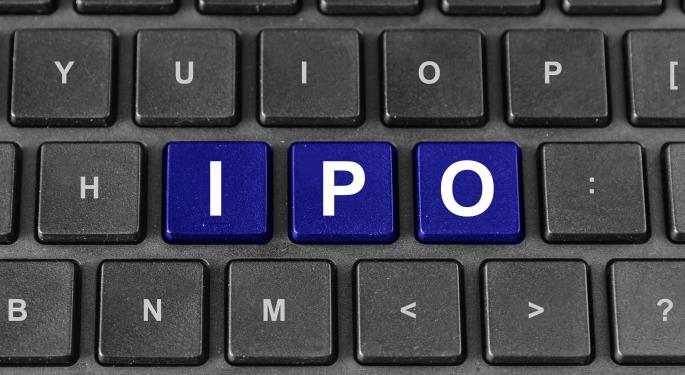 Last week's IPOs waited until Friday to debut:
Ares Management (NYSE: ARES), Papa Murphy's (NASDAQ: FRSH), Aldeyra Therapeutics (NASDAQ: ALDX), and Scynexis (NASDAQ: SCYX).
These IPOs enter a heavily mixed market as the S&P 500 swung between green and red after the employment situation improved but concerns over Russia and Ukraine hung overhead.
Ares Management Facing weak demand, the company decreased its offering from 18.2 million shares to 11.4 million and priced at $19, below the $21-$23 range. Shares opened low, for $18.15 per share at 9:50 a.m.
After one minute, the bottom was in at $18, and despite a sluggish market, shares marched to the highs of the day, $18.63. Ares settled in to close near the highs at $18.69, still causing a loss of IPO investors after day one.
Related: IPO Lookout For The Week Of April 28: Aldeyra Therapeutics, Papa Murphy's & Ares Management
Papa Murphy's This company priced as expected, selling 5.8 million shares for $11, on the low end of the $11 to $13 range. Papa's shares opened high for $12.10 at 10:52, but enthusiasm lacked as shares sank, leaving the stock barely above its offering price at $11.06.
Aldeyra Therapeutics Aldeyra missed the mark after delaying its opening from Friday, April 11. Downsized from 2.3 million to 1.5 million shares, the offering priced at $8, and opened at $7.50, well below the expected $10 to $12 range. Most IPOs open for trading in the morning, between market 9:30 a.m. and noon.
Aldeyra did things differently, opening at 3:00 p.m. eastern standard time. The change didn't make a difference for the biotechnology company, as shares sank from its open to close an hour later at $7.20, well above its $6.01 low.
Scynexis Finally making its debut--Scynexis was originally slated to debut the week of April 14--opened for trading. The stock priced 6.2 million shares at the expected $10 price.
Below the offering, the stock opened for $9.75 at 11:19 a.m. In early trading, shares spiked to $9.84 before drifting off for the rest of the day to close at $9.00. Scynexis shares traded thin most of the day, maintaining a wide bid/ask spread. In some cases, spreads were $0.20 wide or more. Traders and investors should be careful when buying or selling.
IPOs for the Week of May 5:
Alder Biopharma (NASDAQ: ALDR): expects to price 7.2 million shares between $13 and $15 through underwriters Credit Suisse and Leerink Partners.
Cheetah Mobile (NYSE: CMCM): is issuing 12.3 million ADSs (American Depository Shares) for $12.50 to $14.50 through J.P. Morgan, Morgan Stanley and Credit Suisse.
GasLog Partners (NYSE: GLOP): Underwriters Citigroup, Credit Suisse, and Wells Fargo expect to price 8.4 million share between $19 and $21.
PBF Logisitcs (NYSE: PBFX): Offering 13.8 million shares between $19 and $21 through Barclays and UBS.
Tuniu.com (NYSE: TOUR): The company expects to issue 8.0 million ADSs between $9 and $11.
K2M (NASDAQ: KTWO): 8.8 million shares are expected to price between $16 and $18 through Piper Jaffray, Barclays, and Wells Fargo.
Radius Health (NASDAQ: RDUS): Radius is issuing 5 million shares and looks to price them between $14 and $16 through Jefferies and Cowen. At 2:26 p.m. today, a story was released stating that Radius Health filed to withdraw its IPO. The story was redacted and incorrect.

As of the time of this writing, Radius Health will be moving forward with its IPO.
Overall, last week was dismal for the IPO investor. With seven offerings on the docket for the week of May 5, maybe demand will pick up now as the S&P 500 sits near all-time highs and investors look for new growth opportunities.
Disclosure: At the time of this writing, the author holds no positions in any mentioned company.
Posted-In: Alder Biopharma Aldeyra Therapeutics Ares ManagementNews Previews IPOs Pre-Market Outlook Trading Ideas Best of Benzinga
View Comments and Join the Discussion!