NBA Brings Down The Hammer On Clippers' Owner: Now What?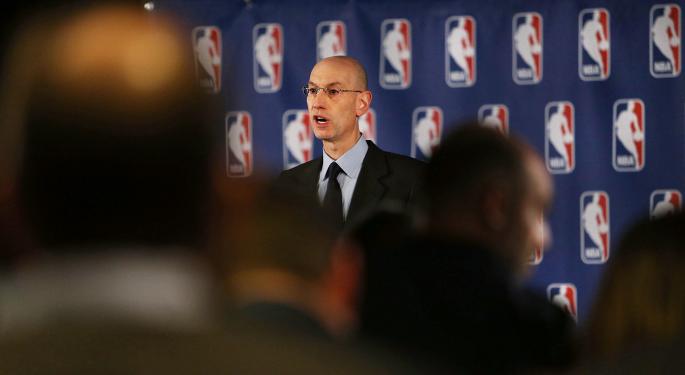 NBA Commissioner Adam Silver is just three months into his job, but has already set a precedent that could define him for a lifetime.
"I will urge the board of governors to exercise its authority to force a sale of the team," said Silver on Tuesday afternoon. Following the league's investigation of Los Angeles Clippers owner Donald Sterling, who bought the franchise in 1981, Sterling will be banned for life from the franchise and the league -- following racist and sexist remarks attributed to him on an audio recording.
Silver said the process to sell the team will begin immediately. Sterling was also fined $2.5 million, the maximum amount allowed under the NBA Constitution.
To strip Sterling of his ownership, the league's 29 other owners would have to approve on a 3/4 vote. Yahoo Sports has taken a look at how Magic Johnson and his team could expand their ownership of the Los Angeles sports scene.
When the Clippers took the floor this past Sunday at Golden State, they removed their pregame jackets at mid-court and turned their warm-ups inside out -- as an act of protest.
What Next?
Andrew Delaney, an attorney with Vermont-based Martin & Associates with experience in sports law, said Sterling could sue for breach of contract of the franchise agreement. That might not hold up, however, because of waiver-of-recourse provisions in the franchise agreement.
"However, as Michael McCann (an industry analyst who writes for Sports Illustrated) suggests, he could make an antitrust claim that would bypass those provisions," Delaney told Benzinga, "arguing that the owners and the NBA have conspired in violation of antitrust law to expel him -- thus resulting in an inability to attract competitive bids because everyone would know that he had to sell."
Delaney said the force of team's sale also adds significant weight to an antitrust claim.
"Whether Sterling chooses to proceed in that direction or not is another matter," he continued. "I think it'd be something of a PR nightmare and, if reports are true, Sterling just wants this to go away. It depends on the endgame. It's unlikely Sterling will ever regain control, so even if successful -- and that's questionable -- it would be a bit of an empty victory if his goal is to be reinstated."
Related: This Million Dollar NBA Blunder Is Not What You'd Think
And about that recording, which Los Angeles sports legend Kareem Abdul-Jabbar referred to as "sleazy"?
"Mr. Sterling acknowledged it is his voice on the recording and has not expressed to me directly any other views," said Silver.
"Whomever recorded it faces potential criminal liability," said Delaney. According to California Penal Code Section 632, there must be consent from all parties involved for a confidential recording to take place, or else the act is punishable by either a fine not exceeding $2,500, imprisonment in the county jail not exceeding one year or in the state prison.
"But who knows if a prosecutor would bring the case?" Delaney added. "The person could also face a potential civil lawsuit from Sterling -- or Stiviano if she wasn't the recorder."
In a bit of eerie coincidence, a Golden State assistant coach was fired in April for secretly recording conversations between coaches and players.
Empty Gestures?
Numerous companies, such as CarMax (NYSE: KMX), Sprint (NYSE: S) and State Farm Insurance, have pulled or suspended their sponsorships with the Clippers. The moves, however, could be empty gestures so late in the season -- going into Tuesday night, the Clippers are one game away from elimination
Most of the sponsors bailing on Clippers are just getting a free feel-good card. They already paid their money for the season.
— J.A. Adande (@jadande) April 29, 2014
Horizon Media Research Analyst Brad Adgate told Benzinga he believes there is too much money and exposure involved for these sponsors to pull themselves from the NBA as a whole -- noting that marketers were also waiting for the NBA's decision on Tuesday afternoon.
"I don't think there will be a threat of a league-wide boycott," he said. "The Clippers could not have played [Sunday] but did, so the league is bigger than the team, and more popular."
The Clippers game against the Golden State Warriors on ABC (NYSE: DIS) on Sunday drew the highest ratings of the NBA playoffs so far, pulling a 5.0 on the Nielsen scale. The game was also the most social sporting event of the last week.
Nielsen Social also has the game topping all other shows over the April 21-April 27 time period, with 590,000 tweets and a unique audience of 8.085 million taking part in the online conversation.
"Sponsors should judge us by our response to this incident," said Silver, "and I'm hopeful that they would return to their marketing commitment to team."
Posted-In: Adam Silver Andrew Delaney basketball Brad AdagteNews Events Top Stories Media Best of Benzinga
View Comments and Join the Discussion!