Will Apple's Stock Split Increase Its Marketability?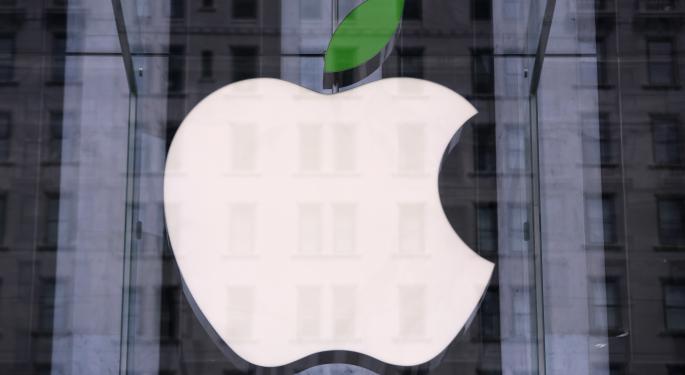 Shares of Apple (NASDAQ: AAPL) rose more than eight percent after the company announced a surprise 7-for-1 stock split.
As of this writing, Apple is hovering near $600 -- an achievement not seen since November 2012.
Before earnings and the stock split were revealed, Creative Global predicted that Apple would remain under pressure and move toward $420. Apple seems to have avoided this potential pitfall, but will its success last?
"In general, I think that Apple will increase its marketability by decreasing the price of its shares," Gabriel Mengin, CCO of Great Point Capital, told Benzinga. "I think that there's people that are going to be more willing to engage the security in the ballpark of $70 a share than they were when they were potentially priced out at the higher valuation."
Related: Apple's 12.9-Inch iPad Rumored For October 2014
No Products? No Problem!
Apple hasn't released a new device since the iPad Mini with Retina Display arrived in November 2013.
That device was released shortly after the iPad Air, which arrived earlier in the month. The iPhone 5S and iPhone 5C were released two months prior.
Apple's 2013 release list also included a new Mac Pro (which arrived in December), along with the usual batch of MacBook Air and MacBook Pro upgrades.
Of these products, only the iPhone 5S and iPad Air seemed to hit it big with consumers. In fact, the iPhone 5S is still helping Apple break sales records six months after its release.
iPad sales are beginning to decline, but the tablet is still one of the strongest performers on the market. It is, by far, the most successful tablet series available.
Regardless, many analysts want Apple to release brand-new products, such as an iWatch.
But Apple has once again found a way to improve its share price without adding a single new product to its lineup.
Now that the company's shares are on the verge of a price cut, that growth might continue -- with or without any additional iDevices.
Disclosure: At the time of this writing, Louis Bedigian had no position in the equities mentioned in this report.
Posted-In: Apple comments Gabriel Mengin Great Point CapitalNews Stock Split Success Stories Tech Best of Benzinga
View Comments and Join the Discussion!