Goldman Sachs And Others Still Face FHFA Suits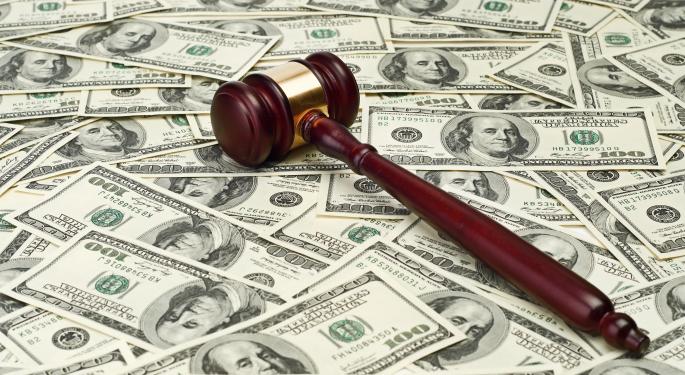 As headlines tout negotiations of a $13 billion mortgage settlement between Bank of America (NYSE: BAC) and JPMorgan Chase, it's important to remember other lawsuits are ongoing.
Back in 2011, the Federal Housing Finance Agency sued 18 banks for securities fraud relating to mortgage backed securities. Five of those cases haven't settled yet.
While both the Bank of America negotiations and the JPMorgan Chase deal included resolution of the FHFA claims, as well as other mortgage backed securities claims, settling the FHFA claims are key to the banks. The FHFA's claims are particularly easy to prove, as Peter Henning explained for Dealbook when the suits were filed.
Related: Will Congress Look Into The Relationship Between Banks And Their Regulators?
The outstanding FHFA suits are against Goldman Sachs (NYSE: GS), HSBC (NYSE: HSBC), Royal Bank of Scotland (NYSE: RBS), Nomura Holding America and First Horizon National (NYSE: FHN). In addition, some defendants remain the Ally Financial case, which was otherwise settled.
It's impossible to know how much each of the remaining cases is worth, because the facts of each case vary. However, if the prior settlements are any guide, Goldman Sachs could face paying over $1 billion.
Despite sounding large, that would be a relatively inexpensive settlement. The FHFA's compliant against Goldman seeks payment for the $11.1 billion in mortgage-backed securities Fannie and Freddie purchased from the bank.
The FHFA's suit against HSBC involves $6.2 billion in securities, and thus would likely settle for less than whatever Goldman pays. Conversely, FHFA is suing RBS over $30 billion in securities, and thus RBS's settlement would like be higher than whatever Goldman pays.
The FHFA's suit against Nomura, is much smaller, involving a relatively meager $2 billion in securities. The smallest remaining suit is the one against First Horizon, which involves $883 million in securities.
Again, these are simply the suits brought by FHFA; settlements with the banks it sued often involve other law enforcers and additional claims. For example, the FHFA claims represented only $4 billion of the $13 billion JPMorgan Chase settlement. So the $1 billion+ for Goldman, and the over/under for the other suits, are all lowball estimates if other cases are wrapped into these settlements.
Indeed, if additional claims are not wrapped into any settlements involving the FHFA suits, further settlements could follow. That's exactly what's happening with Bank of America -- the $13 billion negotiations underway follow the bank's recent $9.5 billion settlement with FHFA.
So who will settle next?
Posted-In: Bank of America fhfa first horizon national Goldman Sachs HSBCNews Events Economics Best of Benzinga
View Comments and Join the Discussion!