Did Google Just Secretly Release Glass For Sale To The Public?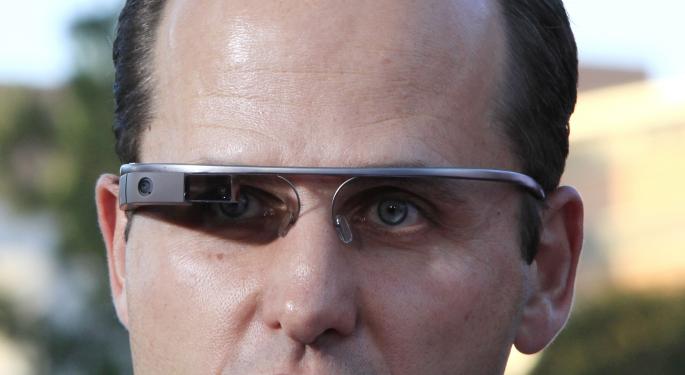 It could be a mistake or it could be a secret public release, but if you go here, right now, you can apparently order Google (NASDAQ: GOOG) Glass (for $1,500).
Will your order be filled? There has been no announcement and BGR said it was possible the page went live accidently. It's also possible that if you place an order, nothing will happen. Or you will be shipped a Glass device.
When Benzinga filled out an order form, everything worked and the order appeared in a shopping cart. (The order was deleted before final checkout, so it is still not known what happens when an actual attempt to buy is made.)
Related: 6 Reasons Google Glass Needs More Positive Buzz
In the meantime, as the world awaits word from Google, the order page with the title "Become an Explorer" said that for $1,500 anyone could become a Glass Explorer and place an order for their charcoal, tangerine, cotton, shale or sky Glass device.
The $1,500 price, according to the website, also includes a cable and charger, mono ear bud, pouch and your choice of shade or frame.
To add to the confusion, the Google Glass "start" page opens with a banner saying, "That's all folks" explaining that there are no available spots in the Explorer program. Clicking on "How to get one" leads to a form you can fill out to be advised when the device becomes available.
On the other hand, according to Forbes, the shopping page was indeed live and "anybody with $1,500 can plop down for a pair."
The question of whether or not Glass is actually available to the public does little to resolve questions about whether the public wants it – or wants others to have it.
Forbes said concerns about privacy come from people who have not actually handled the device. According to Forbes, the product demands so much attention it is "basically the world's worst spy camera."
Instead of using it to surreptitiously gather video and audio information about others without them knowing it, the device is described as more for consumption than creation. In other words, it would serve the purpose of allowing the wearer to gather information, read texts or email without having to pull out your smartphone.
In the end, perhaps Google decided that the only way to find out if the public is ready for Glass would be to offer it without restriction and see what happens.
As Google Glass wearers everywhere are saying, "We will soon see."
At the time of this writing, Jim Probasco had no position in any mentioned securities.
Posted-In: Benzinga Explorer Glass GoogleNews Events Tech Media Best of Benzinga
View Comments and Join the Discussion!