Samsung Tablets Have Overtaken Kindle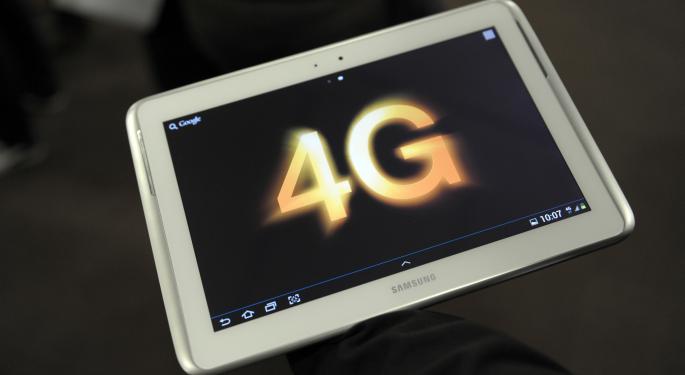 A new study on web broswer usage reported by Mashable, said Samsung (OTC: SSNLF) tablets overtook Amazon (NASDAQ: AMZN) Kindle as of April 2014 in North America.
There was no need for Apple (NASDAQ: AAPL) to get nervous. The iPad continued to reign supreme with 77.2 percent of web surfing on tablets. Samsung gathered up 8.3 percent, jumping over Amazon, which dropped from 7.4 percent a year ago to 6.1 percent in 2014.
Web browser usage was considered a good barometer since it is typically one of the most popular tablet-based activities. The study, by online advertising network, Chitika, only counted ad impressions in Chitika's ad network.
In-app tablet usage, including watching videos on Amazon Prime or Instant Video or reading books via the Kindle app was not counted. Neither were applications such as Netflix or Hulu.
Related: Is Samsung Hedging Its Bets Between Android and Tizen?
According to Mashable, the battle for supremacy among Android tablets was not settled by Samsung's sudden rise. The company was expected to launch the Galaxy Tab 4 soon, but Google was also expected to unveil an 8-inch Nexus tablet at its developer conference in June.
Meanwhile, last week Tech Crunch reported an interesting twist to the Amazon/Samsung saga. The companies created a new app, Kindle for Samsung, designed to let Galaxy device users who had Android 4.0 and up installed on their devices to buy and read Amazon content including magazines, newspapers and books.
The two companies also announced the launch of a free book service, Samsung Book Deals, for users of the new app. Those referred to get the service can receive up to 12 free books a year from a selection provided by Amazon.
Whether this move would ultimately be more helpful to Samsung in getting people to use its platform or Amazon, which would have its content shared more widely, remained to be seen.
Since tablets are the device of choice for e-reading, the added content from Amazon could help Samsung grow its hardware advantage over Amazon.
With Android now being the world's largest tablet platform (over iOS), additional content could create some very helpful bragging rights for Samsung in its fight to take market share from Apple.
On the other hand, Amazon's primary focus was always scale, so adding a huge block of consumers to its content offerings was not the worst thing that could happen.
At the time of this writing, Jim Probasco had no position in any mentioned securities.
Posted-In: Amazon Android Apple ChitikaNews Events Tech Media Best of Benzinga
View Comments and Join the Discussion!