Intuitive Surgical Plunges On Weak Sales Of Da Vinci Systems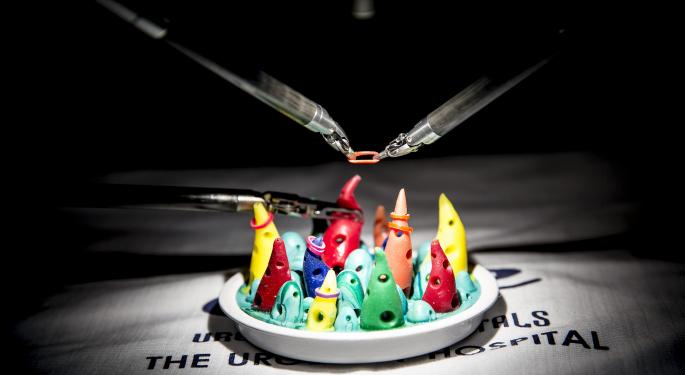 Intuitive Surgical (NASDAQ: ISRG) reported very disappointing first quarter results on Tuesday after the market closed.
Shares opened about $30 lower on Wednesday, down nearly nine percent. Driving the decline was a a meager $1.13 earnings per share compared to analysts' expectations of $3.31 per share.
The EPS reflected a 77 percent decline from first quarter 2013. Revenue was also disappointing at $464.7 million, while analysts expected $507.04 million. The last time Intuitive Surgical reported its results was on January 23 when the company earned $4.28 per share, beating the consensus estimate of $4.02.
Revenue of $576.2 million came in slightly above the consensus estimate of $576 million. During the quarter, Intuitive Surgical announced that it had sold 138 da Vinci surgical systems, a drop from the 175 systems the company sold in the same quarter a year ago.
A couple weeks ago the company also warned that it had shipped 87 da Vinci Systems worldwide in the quarter, down from 164 a year ago.
At the same time it cautioned that revenue would total $465 million, representing a decrease of 24 percent year over year. The number announced Tuesday was in line with that prediction.
See also: Intuitive Surgical Announces FDA Clearance of da Vinci Surgical System
The company also said that it will take a $67 million pre-tax charge for settling a number of legal claims against the company.
Although analysts' predictions on EPS were way off, analysts at JPMorgan had said that Intuitive Surgical's earnings call and lack of any revenue guidance was disappointing.
Analysts at Bank of America warned investors to brace for a year of negative earnings growth.
On March 26, Fierce Medical Devices reported that Intuitive Surgical faces more than 75 product liability lawsuits from insurers accusing the company of withholding claims. Despite ongoing lawsuit issues, the FDA approved the company's da Vinci Xi Surgical System on April 1.
Sterne Agee: Growth has slowed
Gregory Chodaczek of Sterne Agee initiated coverage of Intuitive Surgical on April 8 with an Underperform rating. The analyst believes that domestic demand for prostatectomies and hysterectomies has slowed, causing a deceleration in sales for the company.
Additionally, the company faces some fierce competition. "The company believes [da Vinci Xi Surgical System] will eventually help to convert many, if not most, laparoscopic Cholecystectomies (gallbladder removal) to robotic cholecystectomies," Chodaczek wrote in his note to clients.
"While we agree this opportunity is large, we believe there are other robotic systems, which are smaller and designed specifically for single-site procedures that could challenge Intuitive for these procedures." Currently, Intuitive Surgical is the only company that have received FDA approval to operate medical robots but companies such as TransEntrix, IMRIS and Titan Medical have systems that are close to being FDA cleared as soon as 2015.
"Of the three, we believe TranEnterix's SurgiBot will be the first to receive FDA clearance, and while we do not think it will displace the daVinci Surgical System, we do believe it will effectively compete for smaller hospital and surgical center customers," Chodaczek wrote.
While Intuitive Surgical maintains many positive aspects of its razor/razor blade business model, there are risks that investors need to understand.
Since the first da Vinci System was installed in 1999, hundreds of studies have criticized the efficacy and value of a da Vinci System compared to a traditional surgery. For instance, a study at Columbia University in 2013 studied hospital costs of 264,758 women who had hysterectomies for noncancerous conditions were higher when a robotic surgery device was used.
The study claimed that the total cost to the hospital (including the cost of the hospital stay) for a robotic hysterectomy was $8,868, compared with $6,679 for a laparoscopic procedure and $6,651 for an open surgery. Chodaczek is projecting a continued slowdown in system revenues for 2014 to bounce back in 2015.
See also: Intuitive Surgical Shares Pounded on Disappointing Report
As a measure of how disappointing Tuesday's results were, consider that even the relatively bearish Chodaczek projected Intuitive Surgical would earn $3.48 per share on revenue of $538.1 million in the first quarter. Shares are Underperform rated with a $440 price target, which would be some $60 above where they are trading today.
Morgan Stanley Was Right: Consensus Was Too Bullish
David Lewis of Morgan Stanley noted that the general bullish enthusiasm for Intuitive Surgical's new technology is unwarranted and near-term revenue and earnings growth is offset by a longer-term opportunity to expand the company's total addressable market.
"We remain focused on secular pressures and optimistic on the future of single site," Lewish wrote in a note to clients on Monday.
"Our recent clinical panel, SAGES commentary, and the 1Q preannouncement have shaped our views on da Vinci and the path going forward. We continue to see consensus as too bullish and dismissive of secular challenges, despite our shared enthusiasm for the promise of new technology."
Lewis believes that Intuitive Surgical's new Xi System has some benefits but it is not a "revolutionary" change over the previous generation.
The new System may increase the number of procedures performed by surgeons that already have a da Vinci System, but the question of convincing surgeons to utilize robotic devices is still a challenge. Longer term, the da Vinci System does not open up a large number of new procedures which doesn't add much value in the eyes of surgeons and hospitals.
Robotic devices has become a competitive necessity, but costs are still a key concern before the new technology could see mass adoption. Bottom line, despite the recent release of the Xi System, the company needs to improve capacity utilization, according to Lewis who added that robotic adoption is still in the "early innings."
Lewis is projecting Intuitive Surgical to earn $2.67 per share on revenue of $465.0 million in the first quarter. While that EPS prediction was too bullish, the revenue was right. Shares are Equal-weight rated with a $375 price target, which is a little below where it trades today.
Posted-In: da Vinci System da Vinci Xi David Lewis Gregory Chodaczek Intuititve Surgical Morgan StanleyNews FDA Best of Benzinga
View Comments and Join the Discussion!