Supreme Court Ruling Could Change The Face Of Television Forever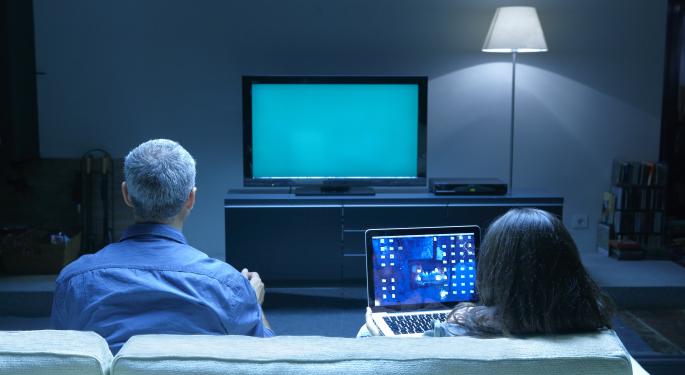 In announcing it would hear American Broadcasting Companies v. Aereo beginning Tuesday, the United States Supreme Court could decide the fate of broadcast television and potentially upend a business model that has been in place for a very long time.
To put it simply, Aereo, a company that lets users stream or record live broadcast TV stored in the Cloud, unlike cable and satellite providers, does not pay broadcasters for the signals it carries.
Because of this, Aereo sells its service for far less than cable or satellite and provides a pathway for consumers to bypass Comcast (NASDAQ: CMCSA), DISH (NASDAQ: DISH) and others as their main source of television programming.
The same consumers could become cord-cutters, obtaining their local network content via Aereo and their other entertainment via Amazon (NASDAQ: AMZN) and Apple (NASDAQ: AAPL) TV, as well as other streaming providers.
Related: Cable Satellite Providers May Clone Aereo
Aereo, which utilizes thousands of tiny antennas in its centers, assigning each customer a unique antenna, and thereby taking advantage of a 2008 court ruling that said end-users had the right to record content for personal use.
Broadcasters have maintained that Aereo acts as an intermediary, just like cable and satellite providers, and owes them retransmission fees. Aereo said it does not and instead works like an off-the-shelf antenna or DVR, per the 2008 ruling.
If the court were to decide Aereo is legal, cable and satellite providers, who pay broadcasters billions of dollars in retransmission fees, could stop doing that and, instead, set up their own "Aereo-like" systems. Alternatively, those providers could simply partner with Aereo.
If the court sided with the broadcasters, Aereo and its system would be finished. As Aereo founder, Chet Kanojia told The New York Times, "There is no Plan B."
Both sides felt their case was strong according to CNN.
CBS (NYSE: CBS), one of the plaintiffs, said, "We look forward to having our day in court. We believe that Aereo's business model, and similar offerings that operate on the same principle, are built on stealing the creative content of others."
Aereo, in a statement said, "We have every confidence that the Court will validate and preserve a consumer's right to access local over-the-air television with an individual antenna, make a personal recording with a DVR, and watch that recording on a device of their choice."
A decision by the Supreme Court was expected sometime this summer according to The New York Times.
At the time of this writing, Jim Probasco had no position in any mentioned securities.
View Comments and Join the Discussion!
Posted-In: Amazon American Broadcasting Companies v. Aereo Apple CBSNews Legal Events Media Best of Benzinga