More People Are Cutting The Cord On Cable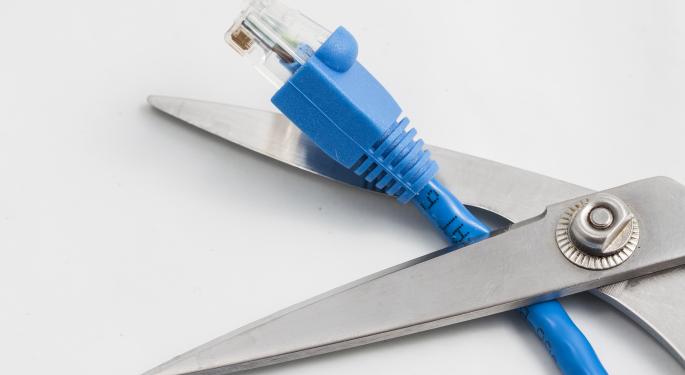 Cable television is losing steam to Internet streaming services.
A new report from Experian Marketing Services says there is a growing number of people who have high-speed Internet, but no cable or satellite television subscription. These "cord-cutters" have jumped in number from 5.1 million households in 2010 to 7.6 million in 2013 -- an increase of 44 percent in just three years.
An estimated 6.5 percent of U.S. households are considered cord-cutters, compared with 4.5 percent in 2010. And that number is almost doubled (12.4 percent) if the house is inhabited by someone under 35. To top it off, 18.1 percent of households that have an Internet streaming service like Netflix (NASDAQ: NFLX) or Hulu are cord-cutters.
The decreased interest in cable and other pay-TV services has been reflected in other studies, too. An SNL Kagan report said the U.S. multichannel segment posted its first full-year decline in subscriptions for 2013. The research firm estimated that cable providers lost almost two million video subscriptions last year.
"This is a trend that is changing the marketplace going forward," technology industry analyst Jeff Kagan told Benzinga.
Related: Does The Drop In Cable Subscriptions Mean The Streaming Revolution Has Begun?
Kagan said traditional customers in older generations will continue to buy traditional cable services, because that's what they're familiar with. But younger people want to spend less money and get more choices.
"That's what's capturing the attention of the marketplace," he said. "As the young people grow, that's going to transform the marketplace."
Jonathan Weber is in his 20s and the founder of web media startup Marathon Studios, Inc. He told Benzinga that everyone in his circle of friends and acquaintances, including himself, has a "cord-cutting mentality."
"I've never paid for cable and never will," he said.
Cross-generational trend
But cord-cutting isn't reserved for just the under-35 crowd. Clinically-trained marraige and family therapist Stacy Lynn Harp is 45, and says it's much cheaper for her to use streaming services in lieu of cable.
"I used to pay close to $100 a month for basic cable and now I am paying for Netflix, Hulu Plus and Amazon Prime, and all together, that's under $25 a month," she said, "and I still see everything I want."
Harp even encourages people to get rid of cable.
"I encourage my brother and sister-in-law, just last week, to do it, because they both work all day and they don't watch much TV," she said.
What cable companies can do
Cut prices, for one. Cable services are increasing their prices to make up for the difference in lost revenue from departing subscribers, St. Peter's University associate communication and media professor Barna Donovan said told Benzinga.
"The cable industry needs to realize that many of the people who are leaving them are doing so not necessarily because of an insatiable need for on-demand, anytime, a la carte entertainment, but because they can't afford their cable bills," he said.
Related: Comcast Isn't Offering HBO Go For Roku Users Any Time Soon
In addition, cable providers could shift their programming to appeal to an Internet audience. Shows like Oprah and Shark Tank use social media to engage with their audience during the live show.
"Tying the program to a very specific must-see time could encourage viewers to subscribe to the cable service rather than watch the show at some later time on Netflix," Donovan said.
Cable companies need to wake up, Kagan said. Instead of trying to innovate, they've been fighting the Internet streaming companies. Comcast (NASDAQ: CMCSA) doesn't allow its HBO Go app to run on Roku players.
"I think that's a mistake," he said. "You can't fight progress."
Posted-In: Barna Donovan cable cable television industry ComcastNews Retail Sales Tech General Best of Benzinga
View Comments and Join the Discussion!