Andrew Keene of KeeneOnTheMarket.com Talks Market Trends, Stocks To Day Trade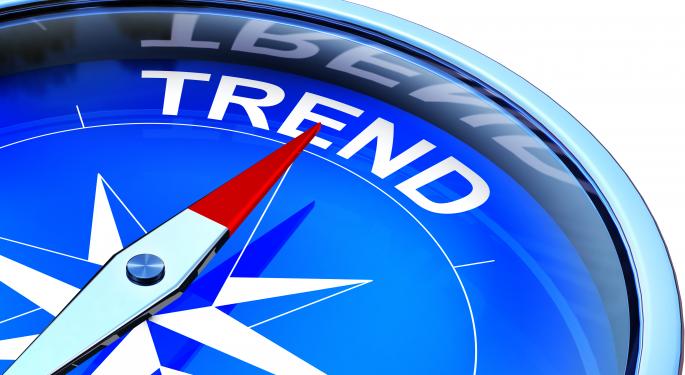 Last Thursday, Andrew Keene of KeeneOnTheMarket.com joined the Benzinga #Premarket Prep to talk about his experience transitioning from a market maker to moving "upstairs" -- as well as the tips and tricks he has picked up over his more than a decade of experiences.
Keene was a market maker on the Chicago Board of Options Exchange for over a decade, from 2001 to 2011, and was the single largest independent Apple trader from 2006 to 2009. Since 2011, Keene has "moved upstairs" and transitioned to electronic trading in an office setting.
The transition, he notes, has been tough and presented its own set of challenges for Keene as a former market maker.
Related: The Travelers Companies Reports a Mostly Positive First Quarter
"This is the best time ever for retail traders to trade," he said, and the worst time ever for market makers." 
The market option spreads are much thinner than they have ever been, allowing investors and traders to get in and out of positions with relative ease.
A transition from the epicentre of the pits to an eight-monitor setup in an office setting is not as easy as it may sound. It took Keene six to nine months to regain confidence and share his wisdom with investors and traders willing to learn from a market pro.
"Everything is a risk versus reward setup," Keene said. "I can look at it as a percentage of my book, or a total dollar amount. How much am I willing to risk on this trade, and if I am right where am I going to take this off."
When Keene was on the floor, he never looked at charts. Now it is the complete reverse, as studying the charts is instrumental to successful trading -- especially for Keen's portfolio of over 40 different products.
Keene allocates his capital to his large number of positions by studying and following the flow of money coming from the institutional players.
For example, on Tuesday, Keene noticed a very large buyer in Delta Airlines that purchased 9,000 June 34 Calls for $1.26 apiece. Keene purchased 150 of the same calls at the same price.
Surprise, surprise. Shares of Delta jumped $1.50 throughout the trading day and Keen was happy to take his $5,800 profit off the table overnight.
"I watch the institutional order flow," he said. "I combine it with the chart and allocate a percentage of my book to the trade."
What About Equities?
"Stocks are the hardest things to day-trade," Keene said before singling out names such as Tesla, Apple, Facebook and Twitter which "work really well." He evaluates a position in conjunction with a five-minute bar chart, 15-minute bar chart and the Ichimoku Kinko Hyo system, which is a set of indicators to identify support and resistance, determine trend direction and generate trading signals.
Names like Tesla could easily move $12 a share in either direction throughout a trading session, so a trader that is on the right sight of the trend could fare very well.
Facebook is Keene's most preferred and "favorite" company to day trade, due to obvious trends forming in addition to a one-cent spread.
Twitter is also a preferred name to trade, as Keen notes that shares have sold off from the opening print to the closing print more than two thirds of the time since the start of 2014.
Keene only uses stop losses in stocks, and admitted that he did not know that stop losses in options existed until a year ago.
"I trade a lot on feel," he said, "so I trade anywhere between 1200 to 1500 options a day, so if I don't like a trade, I'll just click the mouse and get rid of it."
"I trade in a world where I can go long to short, short to flat, flat to long with one click of a mouse," he added.
Keene offered some useful parting remarks to explain where the market is heading.
"We are in a raging-bull market," he said. "All pullbacks are being bought right now. Right or wrong, that's how it is. We are in the biggest bull market I have seen in a long time."
Posted-In: Andrew Keene Apple Chicago Board of Options Exchange Delta AirlinesNews Markets Trading Ideas Interview Best of Benzinga
View Comments and Join the Discussion!