IPO Lookout: IPOs for Week of April 21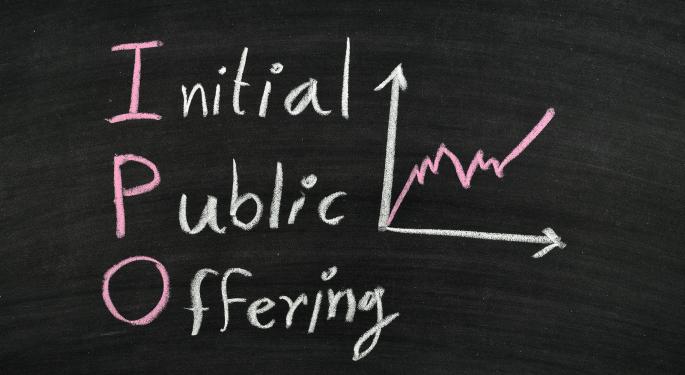 IPOs as of late seem to have slowed down to a crawl, with most stock openings disappointing bright eyed investors on day one.
Thursday's IPOs shed a glimmer of hope as the following companies open for trading:
Leju Holdings tested the waters first this morning, opening at $10.80 on the New York Stock Exchange. Shares faltered in early trading before regaining traction as it made its way from the low of $9.51 to $10.50 per share. The 10 million American Depository Shares (ADS) priced at $10, giving IPO investors a small gain for the day. The $100 million IPO was shared by bookrunners Credit Suisse, J.P. Morgan, China Renaissance Securities, Macquarie Capital, and China Merchants Securities.
Leju Holdings offers an online-to-offline real estate experience through its e-commerce services, primarily for new residential sales. Primary advertising outlets for the company are Baidu and SINA. As an added value, it also hosts a fee-based, online, property listing service to agents.
See also: Weibo Moves Sharply Higher After Open
It plans to use the proceeds to upgrade the technology infrastructure and develop its online platform. Any remaining balance is slated for new acquisitions and strategic business investments. According a recent filing by the company, they are not currently involved in any negotiations for such transactions.
Sabre Corporation missed its IPO range of $18 to $20 by $2, pricing its offering at $16. Shares started exchanging hands at $16.79 before stumbling to its low of $16.03. Traders quickly reversed a sharp downward trend to level the price in a range near $16.50, where it subsequently closed. Offering underwriters are Deutsche Bank, Goldman Sachs, Merrill Lynch, and Morgan Stanley.
Sabre is a technology company and offers global solutions to the tourism industry. Best known for the 'roaming gnome', Travelocity is a wholly owned subsidiary of Sabre's. Travelocity is the third largest revenue contributor for Sabre, with 19 percent. Fifty-eight percent of revenue is realized through the firm's B2B Travel Network and 23 percent through its Airline and Hospitality Solutions segment.
Proceeds will pay off $180 million of the firm's debt.
Sportsman's Warehouse started in an unusual manner this morning, opening its 12.5 million share IPO at exactly the offer price of $9.50. The stock maintained a tight range during trading. The low is $9.12, a high of $10, and closed day one of trading at $9.76. Underwriters of the $118 million deal are Credit Suisse and Goldman Sachs.
The company provides sporting and athletic clothes through wholly owned subsidiaries, Sportsman's Warehouse, Inc. and Minnesota Merchandising Corp.
Highly indebted, the company intends to use all proceeds to repay all outstanding term loans.
Vital Therapies was Thursday's weakest IPO. The 4.5 million share IPO raised $54 million after pricing at $12, below the $13 to $15 range. Opening at $12.25, the stock stumbled to the lows of the day with a low of $11.85 and closed at $12.09, less than a one percent gain to investors. Underwriters are Credit Suisse and Merrill Lynch.
Yet another Biotech IPO, Vital Therapies develops cell-based treatments for acute liver failure. The company develops a treatment that operates outside of a patient's body and assists the liver in regenerating itself to a healthy state or to stabilize it until a new liver is available for transplant.
Proceeds will continue clinical development of the ELAD (Extracorporeal Liver Assist Device) system, its proprietary liver assistance device and for general corporate purposes.
Weibo was Thursday's IPO winner. Despite opening at $16.27, less than its IPO price of $17, Weibo soared, touching an intraday high of $24.48. The stock closed its first day of trading at $20.17, an 18 percent gain for IPO investors. Traders who bought the secondary market open found themselves with a 24 percent gain when the market closed for the long Easter weekend. More on Weibo by clicking here.
Next week's IPOs take a breather from recent activity, with only two issues set to begin trading.
Disclosure: At the time of this writing, the author holds no positions in any previously mentioned securities. He may choose to hold long or short positions without notice in the future.
Posted-In: News IPOs Pre-Market Outlook Best of Benzinga
View Comments and Join the Discussion!