Google Smart Contact Lens Would Help The Blind And More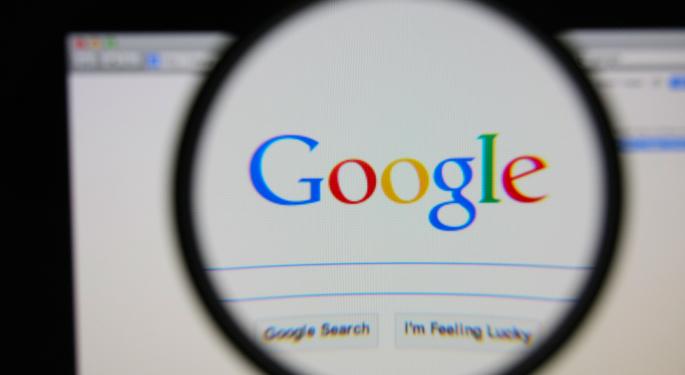 At the rate things are going, Google (NASDAQ: GOOG) is fast becoming an optical specialty company.
In addition to its Google Glass product and tear-monitoring contacts designed to help diabetics control their blood sugar, the Mountain View, CA tech giant has patented a smart contact lens with embedded micro cameras controlled by blinking, according to Patent Bolt.
The primary use for the "smart contacts" would likely be the ability to "superzoom," permitting the sight-impaired to see more clearly and even connecting with a smartphone or other device to warn a blind user of obstacles or traffic when trying to cross a street.
Of course, the ability to turn contacts into virtual binoculars, provide heads up information displays, and more would make such a device tremendously valuable and imminently marketable to the fully sighted as well.
Related: Google Working On Glucose-Monitoring Contact Lens For Diabetics
The sensors embedded in the lenses would be able to "detect light, colors, pattern of colors, objects, faces, motion, or any other suitable information that can be derived from processing one or more images," Patent Bolt said.
Privacy Concerns?
According to the patent, secured in 2012 and revealed this week, the lens would follow the gaze of the wearer and generate appropriate image data. Control of the camera or cameras would involve using the owner's blinking patterns.
Though not exactly the VISOR of Star Trek fame worn by Lt. La Forge, Google's contacts, which so far as is known exist only as a patent, could also CNET suggested, allow sighted users to take hands-free pictures or video by merely blinking. Such a feature would likely raise some of the same privacy issues raised by Glass.
Google does not stand alone in the world of augmented vision. Bellevue, WA-based Innovega, for example, created augmented reality contact lenses that interact with a pair of smart glasses to beam images into the wearer's field of vision.
Innovega's iOptik lenses, the company said, could provide wearers with their own personal IMAX screen, provide 360 degree gaming possibilities, and perhaps more importantly, become a source of layered information such as providing the name and location of nearby landmarks, a needed medical center in the event of emergency, or even provide step by step directions to a destination.
Meanwhile, even though Google's camera-embedded contacts remain hypothetical, the potential, Patent Bolt noted, was enormous.
At the time of this writing, Jim Probasco had no position in any mentioned securities.
Posted-In: Bellevue binoculars CA cameraNews Events Tech Media Best of Benzinga
View Comments and Join the Discussion!