Stephen Colbert Vs. Jimmy Fallon: Who Is The Current Leader?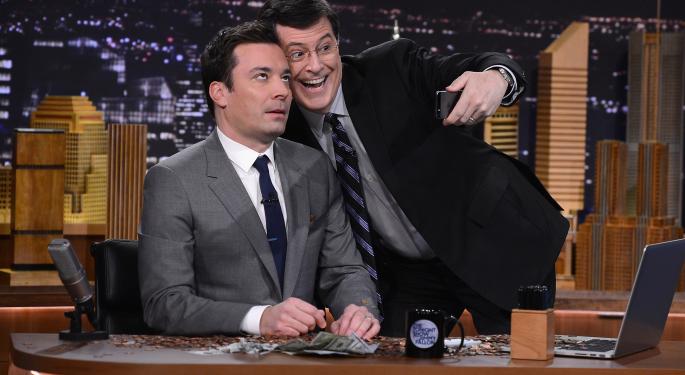 NBC has retained its status as the late-night leader, but can it continue to stay on top when Stephen Colbert comes to town?
Colbert will take over for David Letterman when he retires next year. The early buzz has been positive, but Jimmy Fallon's ratings have set the standard for the new generation of late-night comics. He has dominated the 11:30 p.m. timeslot for roughly two months.
Jimmy Kimmel has been doing whatever he can to close the gap, but the ABC star has yet to catch up to Fallon.
If Fallon and Kimmel dominate today, how many viewers will be left for Colbert when he joins the CBS (NYSE: CBS) family?
Related: Is Mike Ullman the Jay Leno of the Corporate World?
"In terms of just reach for the younger audience, [such as] 18-to-35-year-old males, if you look at it from a peer-to-peer intention standpoint, Colbert is already bigger than Fallon now," Andre Swanston, co-founder and CEO of Tru Optik, told Benzinga. "Here's the question: will that transform into CBS being able to beat NBC in late-night ratings?"
Swanston, whose company provides real-time and predictive audience intelligence for the media, entertainment and advertising industries, said that he wasn't sure if Colbert's current success would transition to CBS. Consumers may be willing to download The Colbert Report, but that doesn't mean they will tune in when Colbert joins a new network.
"Here's the other thing: Colbert is not going to be able to do the same show," said Swanston. "Is he even going to be in character? So the question is, is it realistic to think he can translate that audience demand when he has to switch the format of his show…and other stuff? I don't know. It'd be hard to say based on just that.
"But in terms of [that specific] audience intention from a peer-to-peer standpoint, Stephen Colbert's show and Jon Stewart's show are bigger than The Tonight Show with Jimmy Fallon."
Colbert has stated that he will not play the satirical conservative character that he created for his popular Comedy Central series. This indicates that CBS has faith in Colbert's overall persona, not merely the character he currently plays on a competing network.
Pirates may prefer Colbert's brand of humor, but YouTube viewers -- who provide NBC with a small (perhaps insignificant) amount of additional revenue -- are big fans of Fallon:
Disclosure: At the time of this writing, Louis Bedigian had no position in the equities mentioned in this report.
Posted-In: comments David Letterman Jimmy Fallon Jimmy Kimmel Stephen ColbertNews Success Stories Tech Best of Benzinga
View Comments and Join the Discussion!