Report: Amazon 3D Smartphone Coming in June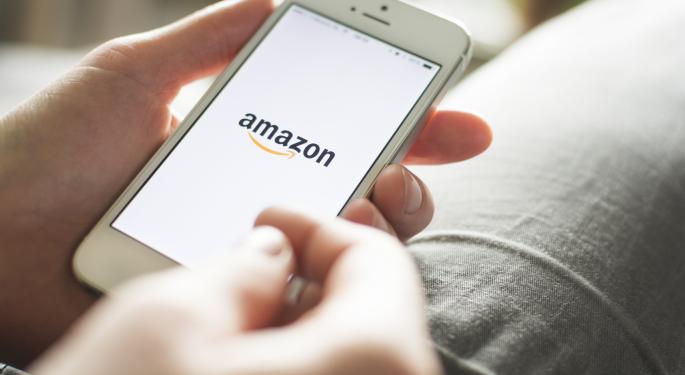 Amazon (NASDAQ: AMZN)'s long rumored 3D Smartphone was almost ready to go, according to sources who spoke to the Wall Street Journal. The device could be officially announced as early as June and begin shipping by the end of September.
According to sources, the company demonstrated different versions of the handset to developers in San Francisco and Seattle recently. Amazon hoped to begin shipping phones in the fall ahead of the holidays.
Amazon's new smartphone would employ a special 3D technology that did not require glasses. Some images would have the appearance of three dimensions, similar to a hologram. Four front-facing cameras or sensors would enable retina-tracking technology, the sources said.
Related: Report: Amazon May Offer Physical Stores Kindle-Based Checkout This Year
The new device would become Amazon's latest move into hardware. What makes Amazon unique is the fact that CEO Jeff Bezos has said the company would rather sell hardware at or just above cost and rely on the sale of services through that hardware for its profits.
Will 3D Make Competitors Nervous?
A new entry in the smartphone space by Amazon, especially one with unique features at a competitive price, could rattle the likes of both Samsung (OTC: SSNLF) and Apple (NASDAQ: AAPL). Together those companies control almost 47 percent of the worldwide smartphone market according to IDC.
Based on reports from WSJ sources, Amazon's new 3-D screen technology has the ability to sense movement of a user's eyes and whether the screen is moving closer to the face. This would allow the phone to automatically zoom in as well as manipulate text and images.
Highly visual games that involve 3D imaging could benefit from the technology. This would appear to fit in well with Amazon's recent release of its Fire TV set-top box, which includes a gaming option.
The operating system for the new phone was not revealed, nor was the name of any carrier with which Amazon might be working. Amazon's Kindle devices, as well as the Fire TV unit all utilize Google (NASDAQ: GOOG)'s Android OS.
Not Free
As to the price of Amazon's new phone, there was speculation at one time that Amazon would enter the smartphone market with a free device. That rumor died off long ago. CNET, however, in discussing Amazon's new phone, said exciting new features – even glasses free 3D – would not trump an attractive price.
Even then, CNET said, consumers were used to subsidized phones at low prices, so Amazon would have to come out of the gate with something very attractive. What that something might be, could be revealed in a few short weeks.
At the time of this writing, Jim Probasco had no position in any mentioned securities.
Posted-In: 3D Smartphone Amazon AndroidNews Wall Street Journal Events Tech Media Best of Benzinga
View Comments and Join the Discussion!