How Many CEOs Slept Their Way To The Top?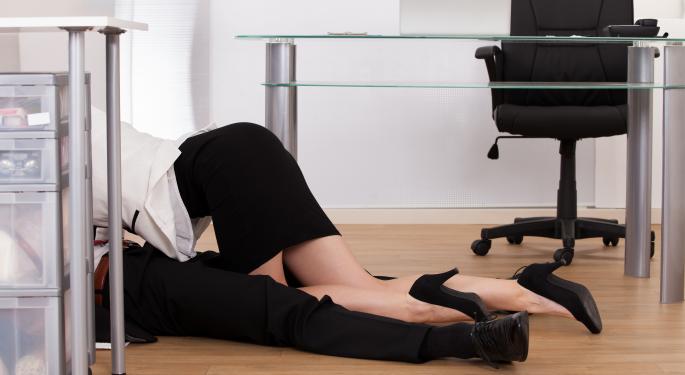 In 2010, the Center for Work-Life Policy claimed that 15 percent of working women have slept with their bosses.
Not all of those women were rewarded for their extracurricular activities, but 37 percent were believed to have been promoted.
That report is anecdotal at best, so those numbers should be taken with a grain of salt. But there have been many cases where an employee (usually young and female) was accused of sleeping with a superior.
One of the most prominent affairs involved Google (NASDAQ: GOOG) co-founder Sergey Brin and Google marketing manager Amanda Rosenberg.
Related: The Biggest Wall Street Scandal The Media Isn't Telling You About
Now that the alleged affair has come to light, Rosenberg's career path may never be the same. But according to Dr. Tim Baker, executive coach, organizational psychologist and author of The End of the Performance Review: A New Approach to Appraising Employee Performance, others may have succeeded where she failed.
Dr. Baker said that it is "very, very common" for employees to sleep their way to the top. He has had firsthand experience witnessing the aftermath of a workplace affair.
In fact, he was once brought into an unspecified publicly traded company to help the firm deal with some issues involving an underperforming female employee.
When he approached the woman about her problems, she got angry and called her staff to assemble a meeting. She said they obviously didn't appreciate her.
"By the way, I am going to end up being managing director of this company one day," she added.
Finally, Dr. Baker went to the firm's current managing director and suggested that he move the female employee to another role. The managing director ignored his suggestion.
One week later, Dr. Baker learned that the two executives were sleeping together.
"No wonder she wasn't sacked," he said. "I think there's probably some validity to the [claim] that she will eventually become managing director."
Most affairs are eventually uncovered. When that happens, "The credibility is gone and if they don't leave they get asked to leave," Dr. Baker added. "It's very unlikely that that situation is sustainable. It usually ends in tears."
Dr. Baker said that while there isn't any definitive research on the number of people that have slept their way to the top, he estimates (based on his own observations) that more than 10 percent of CEOs and other high-ranking execs have traded sex for promotions.
Disclosure: At the time of this writing, Louis Bedigian had no position in the equities mentioned in this report.
Posted-In: Amanda Rosenberg Center for Work-Life Policy Dr. Tim Baker GoogleNews Management Tech Interview Best of Benzinga
View Comments and Join the Discussion!