Google Honors Chemist Percy Julian & His Contributions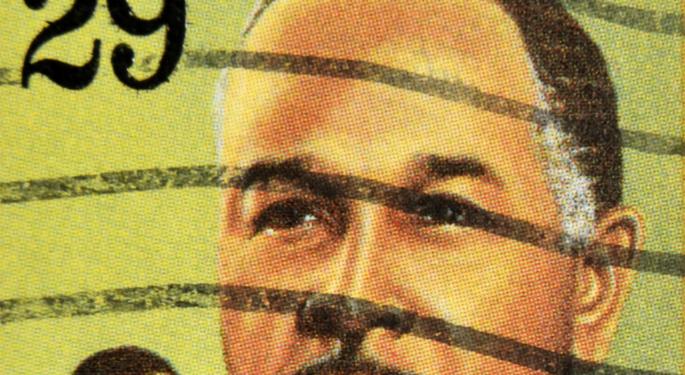 Friday's Google Doodle honors the life of Percy Lavon Julian who would've celebrated his 115th birthday today, April 11, 2014.
Many honor this African American research chemist, who was a pioneer in large-scale chemical synthesis of human hormones from plants, and his foundation for the drug industry's production of Cortisone and birth control pills.
Julian had more than 130 chemical patents and received 19 honorary doctorates. He was the first African American inducted into the National Academy of Science and the second African American scientist inducted from any field.
Related: Get Your Google Glass On: April 15
Summary of Percy Lavon Julian's Life
Percy Julian was born on April 11, 1899 in Montgomery, Alabama.
Julian's father, James, was a clerk in the Railway Service of the United States Postal Service. His mother, Elizabeth, was a schoolteacher. Both parents were graduates of what is now Alabama State University.
At the time, Montgomery did not provide public education to African American students past the eighth grade. Julian entered DePauw University, which accepted black students as a "sub-freshman." In 1920, he graduated as Valedictorian of his class and with Phi Beta Kappa honors.
Percy Julian became a chemistry instructor at Fisk University after his graduation. He taught at Fisk for a short time before receiving an Austin Fellowship in Chemistry in 1923, which allowed him to obtain his masters from Harvard.
The young student was unable to obtain his Ph.D. from Harvard when the university withdrew Julian's teaching assistantship, concerned that white students would resent being taught by a black instructor.
Percy taught at Howard University before receiving a Rockefeller Foundation fellowship to continue his graduate work at the University of Vienna. Julian obtained his Ph.D. in 1931, as one of the first African Americans to receive a Ph.D. in Chemistry.
He returned to Howard to teach for one year before resigning due to a scandal surrounding university politics and racy letters.
Julian returned to DePauw University to teach organic chemistry and continue his research in 1932. With a fellow University of Vienna student, Josef Piki, the two investigated plant products, specifically the African calabar bean, at DePauw. In 1935, they synthesized physostigmine, or esserine, which reduced the pressure in the eyeball from glaucoma. The University refused to offer him professorship due to racial reasons.
He left DePauw and became lab director at Glidden Company. At Glidden, Percy synthesized progesterone, estrogen, and testosterone from soy sterol. He also developed a soy protein foam that could quickly extinguish oil and gas fires during World War II. This foam was adapted by the military.
Shortly following the Mayo Clinic's announcement on the effectiveness of cortisone in treating rheumatoid arthritis. Merck (NYSE: MRK) produced the cortisone using an expensive and complex 36-step process. In 1949, Julian and his team created a cheaper but just as effective cortisone substitute. After two years, he shifted his focus to develop a process to convert pregnenolone to cotexolone.
On December 1, 1953, Percy founded his own company, Julian Laboratories, Inc. with labs in the United States and Mexico, and a chemical plant in Guatemala. Julian sold the company in 1961 for $2.3 million. Smith Kline French purchased the U.S. and Mexico labs and Upjohn purchased the Guatemala facility.
In 1964, he founded Julian Associates and Julian Research Institute which he managed for the rest of his life.
Julian died of liver cancer on April 19, 1975.
In 1990, Percy was entered into the National Inventors Hall of Fame and was honored with a Black Heritage Commemorative Stamp by the U.S. Postal Service in 1993. In 1999, the American Chemical Society recognized Percy Julian's synthesis of physostigmine as a National Historic Chemical Landmark.
Posted-In: Google Google Doodle Percy JulianNews Best of Benzinga
View Comments and Join the Discussion!