Get Your Google Glass On: April 15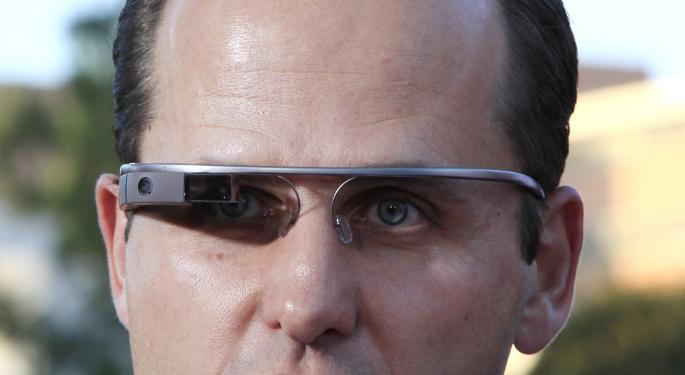 With all the publicity – both positive and negative – garnered by Google (NASDAQ: GOOG) Glass, it only made sense the company would find a way to make the device's limited exposure less limited.
Up to now, the only way you could have obtained your own $1,500 Google Glass device would be an early adopter through Google's Explorer program. At 9 a.m. April 15 Google said it planned to open up to the public, for one day only, and for what the company said was a "limited number of units."
According to the Google+ post, "Our Explorers are moms, artists, surgeons, rockers, and each new Explorer has brought a new perspective that is making Glass better. But every day we get requests from those of you who haven't found a way into the program yet, and we want your feedback too."
Related: Why Google Wants To Plant a Microchip In Your Head
If the $1,500 price tag for Glass sounds a little steep, keep in mind it includes your choice of a free shade or frame.
Would be Glass Explorers would be able to sign up next Tuesday, according to Google, at http://google.com/glass/start/how-to-get-one.
Google Glass, in its first year, has been promoted as the future of computing and on the cutting edge of wearable technology. It has also been cited for invasion of privacy concerns and slammed for its nerdy look – something Google has taken to heart by joining forces with the Luxottica Group (NYSE: LUX), the world's largest fashion eyewear company. Company brands include Ray-Ban, Oakley and Vogue eyewear, to name a few.
Despite generally positive press for the company's recently announced Glass at Work project and stories about how Glass has saved lives in the operating room, Glassholes, as they are sometimes called, have been banned from bars and restaurants, given traffic tickets and scorned by those who feel the device represents an invasion of their privacy.
Google has fought back, recently posting the Top 10 Google Glass Myths including, "If someone wants to secretly record you, there are much, much better cameras out there than one you wear conspicuously on your face and that lights up every time you give a voice command or press a button."
Finally, the company posted a list of "Dos" and "Don'ts" for early adopters, including advice to ask permission before recording someone.
"Standing alone in the corner of a room staring at people while recording them through Glass is not going to win you any friends. The Glass camera function is no different from a cell phone so behave as you would with your phone and ask permission before taking photos or videos of others."
At the time of this writing, Jim Probasco had no position in any mentioned securities.
Posted-In: early adopter Explorer Glass Glass at WorkNews Events Tech Media Best of Benzinga
View Comments and Join the Discussion!