Letterman Out, Colbert In As Late Show Host -- How Will He Do Amid Late Night Disrupt?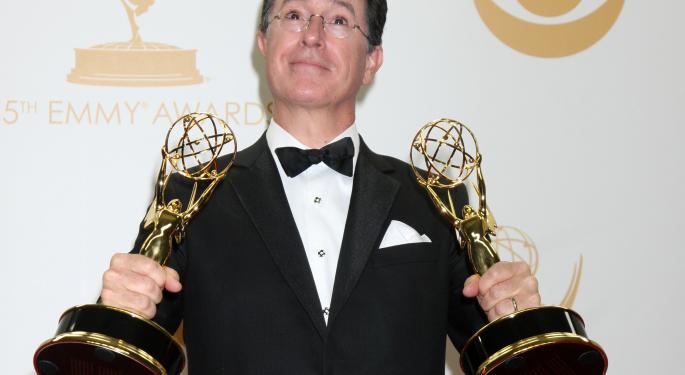 He is America. And so can you?
CBS (NYSE: CBS) announced that satirical political pundit and comedian Stephen Colbert will replace David Letterman as host of Late Show. Letterman announced in early April that he will be retiring from hosting the show when his contract ends sometime in 2015.
"I think Colbert had the insider track. It was his to lose," Brad Adgate, research director at Horizon Media, told Benzinga.
Colbert will be returning to network television, after spending the past 17 years on Comedy Central. He has been host of the popular late-night program The Colbert Report since 2005, where he plays a parody of political talk show hosts such as Bill O'Reilly. Before that, he broke into the late-night game in 1997 as a correspondent on The Daily Show.
The Colbert Report has won three Emmy awards for Outstanding Writing and won its first Emmy for Outstanding Variety Series in 2013. Colbert was named one of Time's 100 most influential people in 2006 and 2012.
The five-year agreement between CBS and Colbert was announced by Les Moonves, President and CEO, CBS, and Nina Tassler, Chairman of CBS Entertainment.
Related: Trailblazers: Vince McMahon Takes His Empire, And An Industry, Over The Top
"Stephen Colbert is one of the most inventive and respected forces on television," said Moonves in a press release. "David Letterman's legacy and accomplishments are an incredible source of pride for all of us here, and today's announcement speaks to our commitment of upholding what he established for CBS in late night."
Movers And Shakers
The move comes amid a big crossroads of late-night television. Letterman will be stepping down from the late-night throne after 30 years -- 20 at CBS, 10 as host of NBC's (NASDAQ: CMCSA) Late NIght. Jimmy Fallon took over NBC's Tonight Show in February and has brought that show its highest ratings in years. Jimmy Kimmel's self-titled show on ABC (NYSE: DIS) moved up to the infamous 11:35 ET time slot in January 2013. Conan O'Brien has made TBS a minor player since November 2010, following his programming scuffle with NBC.
Comedy Central's block of Jon Stewart, who has been host of The Daily Show since 1999, and Colbert has brought the network dozens of awards and critical acclaim.
"Simply being a guest on David Letterman's show has been a highlight of my career," said Colbert, in a press release. "I never dreamed that I would follow in his footsteps, though everyone in late night follows Dave's lead."
I'd like to welcome the great @StephenAtHome to network late night and also congratulate him on his new name: Jimmy Colbert.

— jimmy fallon (@jimmyfallon) April 10, 2014
Network Adjustment
Colbert is certainly familiar with audiences, but not everyone may be aware that he is playing a character on his current show.
"I think he will have to adjust as a performer," said Adgate, an issue that O'Brien ultimately couldn't overcome in 2009. "The CBS position is far more mainstream and he will have to play himself."
Aside from his current gig, Colbert comes from a strong performance background. He studied acting at Northwestern University, eventually joining Chicago's Second City Theater. He was cast in the short-lived Dana Carvey Show on ABC in 1996 and Comedy Central's Strangers With Candy shortly after. He has also had small supporting roles on numerous films and television shows.
Colbert gained nationwide fame after being the featured guest/entertainer at the 2006 White House Correspondents' Association Dinner. He has since been the author of several books.
When asked how Colbert and the Late Show audience -- typically above the 18-34 demographic that networks and advertisers love -- will transition, Adgate believes there will be a lot of viewers initially, but will settle down. Fallon, beginning with his stint as Late Night host in 2009, has been a viral sensation with short comedic and musical clips. Colbert and Stewart have had strong viewership in that key area.
"I'm sure CBS hopes there is a greater online presence and a younger audience," said Adgate
Posted-In: ABC Brad Adgate Comedy Central David LettermanNews Hot Media Interview Best of Benzinga
View Comments and Join the Discussion!