La Quinta Stumbles Early, Causes Some Faith Loss In IPOs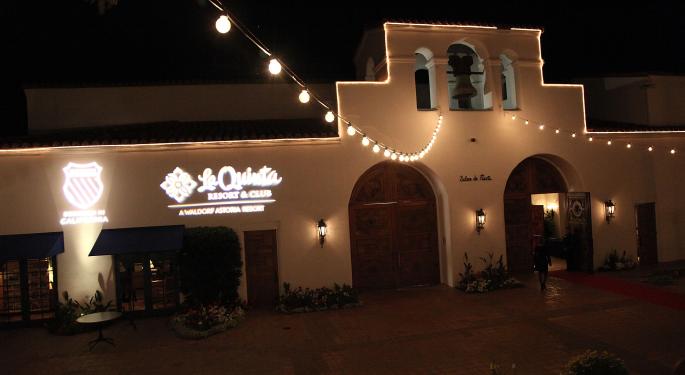 La Quinta Holdings (NYSE: LQ) announced details of its IPO last night in a press release.
The company raised its offering from the expected 37.2M shares to 38.3M shares and priced itself at $17, below the range of $18 to $21.
Opening at $16.75, the shares struggled out of the gate. Over 10 percent of the IPO shares exchanged hands in the first minute of trading as buyers and sellers fought to move the price. It appeared as though the sellers won, setting a high price of $16.83, before moving to a low of $16.32 a few minutes later, marking a loss for all investors who bought the IPO.
After a bleak opening, La Quinta turned higher to close at $17.22, putting investors back in the black.
Critics of IPO Madness are pointing to La Quinta's weak opening as a sign that big IPO gains are a thing of the past. Speaking of La Quinta in a newsletter today, Jim Cramer said, "The initial public offering window is closing," before going on to say, "The disappointing opening speaks loudly, not about La Quinta, which, while debt-laden, is a very well-run chain that has solid growth, but about the state of the IPO market."
La Quinta's opening was weak because it's a hotelier that sold 30 percent of its 122M total shares in an effort to raise $650M to pay off part of its $2.7B worth of debt (as of December 2013). They sold a relatively large piece of the company with a hefty number of shares and aren't going to be using that money for new business development.
Investors want to see the money spent to grow the business and become the next Apple. It's tough to get excited and invest in a company that just wants to pay off its bills.
Disclosure: At the time of this writing, the author holds no positions in any aforementioned securities; however, at a future time, he may choose to hold long or short positions without notice.
Posted-In: News Jim Cramer IPOs Media Best of Benzinga
View Comments and Join the Discussion!