WWE Network Hits 667K Subscribers In Six Weeks, But What Does The Future Hold?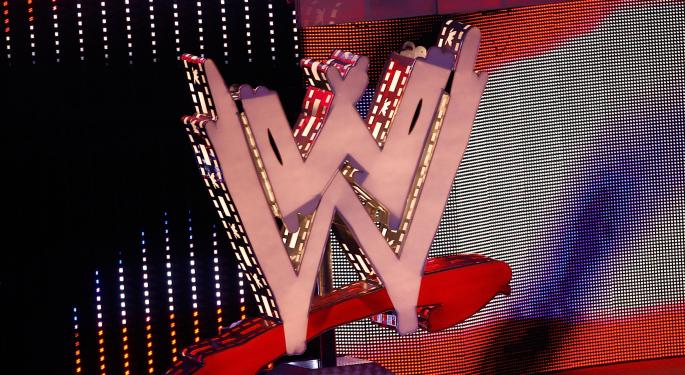 The Undertaker's vaunted streak came to an end, but Vince McMahon may be chanting a familiar refrain.
WWE (NYSE: WWE) announced on Monday that it's on-demand streaming network has reached 667,287 subscribers since launching on February 24. The announcement comes off the heels of the company's annual flagship event, WrestleMania, which saw the culmination of months-long storylines.
The company's goal of one million subscribers by the end of 2014 appears to be on track, but WWE stock didn't seem to cooperate. Shares plummeted as much as 20 percent in Monday morning's trading, before slightly rebounding to $23.90 (or -14.7 percent) at market close. What would cause such a drop?
The New York Times reports this is just the market correcting itself after some lofty expectations.
"I think it's essentially a healthy correction of some overexuberant expectations," said Daniel Moore of CJS Securities to NYT, adding that some investors were hoping for a number closer to a million subscribers. The network can be purchased for $9.99 per month, with a six-month commitment.
Related: Trailblazers: Vince McMahon Takes His Empire, And An Industry, Over The Top
Belus Capital CEO Brian Sozzi agreed with this sentiment, "especially with all the marketing that went into it." WWE brought in numerous former stars, granted many interviews and at one point saw its stock rise 200 percent year-over-year. Since WWE announced its network launch at the Las Vegas Consumer Electronics Show on January 8, the stock rose from $16.22 to $31.39 in three months.
While the numbers may not have met investors expectations, Sunday night's WrestleMania 30 stream seemed to have no problems. By almost all accounts, aside from a few buffering pauses, the 4-hour event went on without issue. How will WWE regroup going forward? Horizon Media's Brad Adgate says that's hard to gauge because it -- an over-the-top subscription service -- is such a unique strategy.
In regards to future subscribers, Adgate said it's hard to find a comparison to such a venture.
"I would look to see at what number the sub count plateaus. What type of online events trigger sign ons. The only comparison I can think of is Obamacare," Adgate said in an email.
Sozzi told Benzinga to watch how WWE storylines develop in the near-term, based off the results of WrestleMania 30.
"The advantage they have,...is that all eyes will be on them the next few weeks to see what happens to Undertaker's career, Daniel Bryan's title run, and where Brock Lesnar now goes."
According to Adgate, that is over four million viewers each week on USA Network for the company's weekly Monday Night Raw program.
Posted-In: Belus Capital Brad Adgate Brian Sozzi Brock Lesnar comments Horizon MediaNews Markets Best of Benzinga
View Comments and Join the Discussion!