IPO Lookout: IPOs For The Week Of April 7, 2014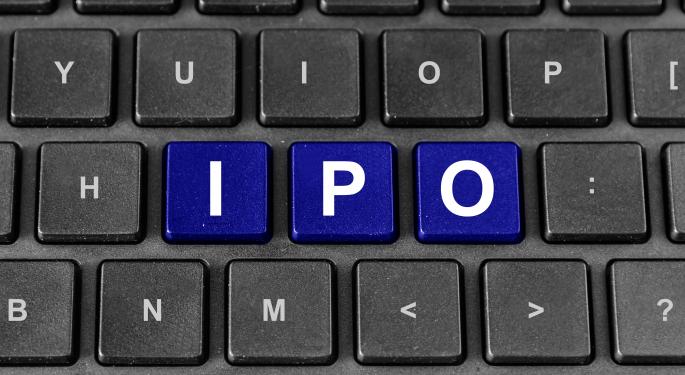 On pace with the preceding weeks, the week of April 7 looks to launch 12 IPOs, plus the delayed Scynexis (NASDAQ: SCYX) IPO from last week.
Using the IPO price ranges as a guide, this week's companies are looking to raise roughly $4.6 billion dollars. Ally Financial (NYSE: ALLY-B) is the biggest IPO expected for the week, looking to raise $2.5 billion.
This week's IPOs are:
For Wednesday, April 9
iKang Healthcare (NASDAQ: KANG) will offer 10.9M ADS (American Depository Shares) of its medical services company between $12 and $14. Merrill Lynch and UBS will be bringing the company to market.
La Quinta Holdings (NYSE: LQ) operates as a franchisor of hotels, and will be pricing its 37.2M share IPO between $18 and $21 through joint bookrunners J.P. Morgan and Morgan Stanley.
Related: Timon And Pumba Find GrubHub In The Dirt As IPO Stumbles
For Thursday, April 10
Adamas Pharmaceuticals, Inc (NASDAQ: ADMS) is a specialty pharmaceutical company and will price 3M shares between $16 and $18 through Credit Suisse and Piper Jaffray.
Ally Financial (NYSE: ALLY-B) is a financial services firm, formerly known as GMAC. It is expected to price 95M shares between $25 and $28 through underwriters Citi, Goldman Sachs, Morgan Stanley, and Barclays.
Cerulean Pharma (NASDAQ: CERU) is a clinical-stage biopharmaceutical company and is expecting to price its 5M share IPO between $11 and $13. Leerink Partners is the sole bookrunner for the IPO.
For Friday, April 11
Aldeyra Therapeutics (NASDAQ: ALDX) is a biopharmaceutical company and is expecting to price its 2.3M share IPO between $10 and $12. Aegis Capital is the sole bookrunner.
City Office REIT (NYSE: CIO) is a REIT (real estate investment trust) and is expecting to price its 6.7M share IPO between $14 and $16. Underwriters are Janney, Montgomery, Scott, Oppenheimer, and Wunderlich.
Enable Midstream (NYSE: ENBL) operates and develops natural gas and crude oil infrastructure. The company expects to price 26M shares between $19 and $21 through Morgan Stanley, Barclays, and Goldman Sachs.
Farmland Partners (NYSE: FPI) is a real estate company focusing on farmland. Their 4.7M share IPO is expected to price between $14 and $16 through Baird, BMO Capital, and Janney, Montgomery, Scott.
Phibro Animal Health (NASDAQ: PAHC) develops and markets animal nutrition products. They are issuing 11.8M shares, and expect them to price between $16 and $18 per share. Merrill Lynch and Morgan Stanley are leading the issue.
Paycom Software (NYSE: PAYC) is a cloud-based human capital software provider. 6.6M shares are expected to price between $18 and $20. Barclays Capital and J.P. Morgan are the joint bookrunners.
Zoe's Kitchen (NYSE: ZOES) operates fast-casual restaurants and is expected to offer 5.8M shares for $11 to $13 per share. Piper Jaffray and Jefferies are joint bookrunners for the IPO.
Scynexis develops and commercializes anti-infectives for unmet therapeutic needs. Slated to begin trading last week, Scynexis has been delayed -- as they slash their price target range from $12 to $14 down to a range of $7 to $8. Canaccord Genuity and RBC Capital are the bookrunners.
What to Watch
La Quinta Holdings is a well-known middle to upper-tier hotel service provider. The company owns, operates and franchises hotels under the La Quinta brand.
According to the company's most recent S-1, dated March 27, they experienced $873.9 million in revenues for the year ending Dec. 31st, maintain $2.1 billion in debt, and have almost 8,000 employees.
Net proceeds are expected to be used to pay off all of the long-term debt, with any remaining funds for general purposes.
Ally Financial, formerly known as GMAC, collapsed in the 2008 financial crisis and was granted a $17 billon dollar bailout. The U.S. Treasury is offering 95M of its 177M shares on Thursday, looking to raise over $2.5 billion from the sale.
None of the proceeds of the offering will be received by Ally. Given the size and unique situation, it will be interesting to see whether investors run scared from the one-time defunct institution, or scramble to buy shares in hopes of greener days ahead.
Disclosure: At the time of this writing, the author holds no positions in any aforementioned securities; however, at a future time, he may choose to hold long or short positions without notice.
View Comments and Join the Discussion!
Posted-In: initial public offering initial public offerings IPONews Psychology IPOs Events General Best of Benzinga