9 Companies That Could Help The Smartphone Replace The Wallet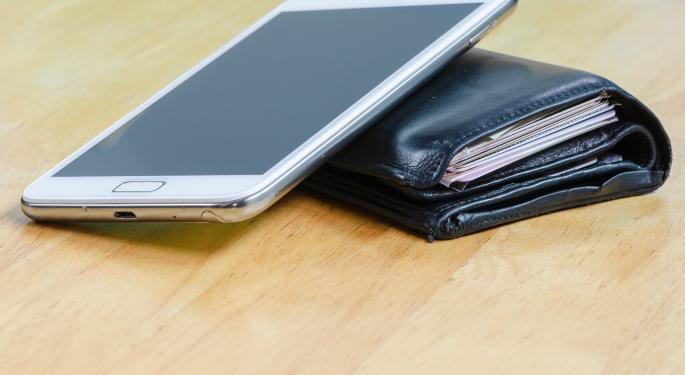 Many years ago, eBay (NASDAQ: EBAY) owned PayPal was one of the few online payment processors.
Visa (NYSE: V), MasterCard (NYSE: MA) and Google (NASDAQ: GOOG) entered the online space and PayPal was forced to fight to maintain its market share.
With the growing trend of "digital wallets" apps offered by many large retailers including Starbucks (NASDAQ: SBUX), the mobile and online payment space faces more competition than ever before.
Retailers are promising that their own digital wallets apps will provide consumers with a better and more enjoyable shopping experience.
Are we entering a new payment era in which physical cards become a thing of the past?
Consumers would no longer need to carry around their wallet. This places tremendous pressure on the likes of Visa and MasterCard as well as Paypal who has been developing its offline business by partnering with retailers such as Home Depot (NYSE: HD) to accept PayPal as a method of payment.
See also: Avoiding Windows XP Armageddon
Wal-Mart (NYSE: WMT), Target (NYSE: TGT), Best Buy (NYSE: BBY) and other large retailers have announced plans to create the Merchant Customer Exchange, which according to the company's website will " focus on a flexible solution that will offer merchants a customizable platform with the features and functionality needed to best meet consumers' needs." The application is expected to be available on all major smartphone platforms.
Retailers can offer consumers added benefits that other payment options cannot such as discounts at purchases, store loyalty, reward points and less time spent in the check-out isle.
Retailers are also likely to have a greater degree of control over its associated fees.
Wal-Mart recently filed suit against Visa for $5 billion over card swipe fees. The retailer is seeking damages for what it believes are antitrust violations committed by Visa between January 2004 and November 2012.
According to Reuters, the global market for mobile payments is expected to grow threefold by 2017 to $721 billion worth of transactions, and this is not necessarily encouraging statistics for the banks and credit card companies.
"We view merchants as overall beneficiaries of the trend toward mobile payments," said analysts at Morgan Stanley. Reuters explained that retailers have already invested upwards of $150 billion in 2012 to develop their own payments systems.
Digital wallets and apps has already made its mark in the international market. In Germany, a mobile payment app universally accepted by thousands of stores called Yapital has proven to be successful.
In Britain, the Centre for Economics and Business Research noted that its local retailers could have saved 463 million pounds ($770 million) in transaction related fees in 2013 by shifting to mobile payments.
While consumers may not be ready to replace their wallet with a smartphone, if retailers see this shift as a huge savings, it is a safe bet to say it will happen.
If so, the only question is how soon?
Posted-In: Digital Wallets EBAY Google home depotNews Rumors Tech Trading Ideas Best of Benzinga
View Comments and Join the Discussion!