Amazon Prime Surpasses Hulu, Apple In Video Bandwidth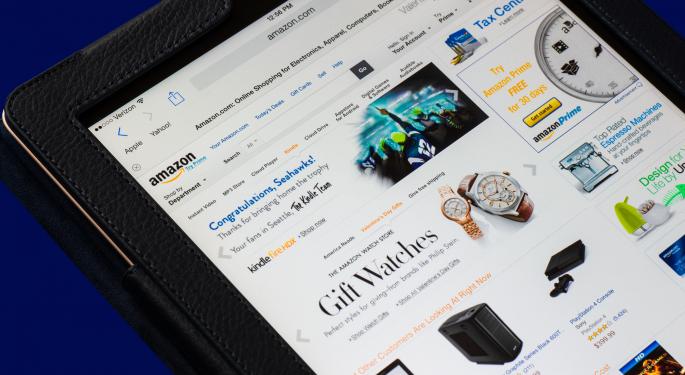 Hulu and iTunes may be a popular source for video streams or downloads, but Amazon (NASDAQ: AMZN) has overtaken both formats in terms of bandwidth.
"I think the growth, you probably can attribute it to [Amazon bundling] Instant Video inside Amazon Prime," Dan Sahar, co-founder and VP of Product Marketing at Qwilt, told Benzinga. "That gave them a very good head start in terms of subscriptions, definitely against Hulu."
Qwilt, a four-year-old startup from veterans of Cisco (NASDAQ: CSCO) and Juniper (NYSE: JNPR), sells devices (which are described as commodity hardware platforms that use Qwilt's software) to network operators. Those devices sit inside of the operator, which has allowed Qwilt to see what consumers watch.
"They're looking at traffic and anonymizing it," Sahar explained. "We don't know what you watch -- we just look at the general titles."
Related: Amazon Fire TV Announced: Does It Live Up To Rumors And Expectations?
Qwilt has been tracking video bandwidth for roughly two years. Sahar said that while Hulu had an early advantage against everyone in the business, Netflix is the undisputed champion in terms of bandwidth.
By comparison, Nielsen and comScore track individual views, which Sahar described as a Web metric.
"If you click on a YouTube video watch it for two seconds, that's considered a view," said Sahar. "It's not really an accurate measurement for video. What we track is bandwidth consumption, which is far more precise. If you're staying and watching a full video, it means that you're consuming more bandwidth.
"We're able to do that across different devices that operators allowed us access to inside their networks. By aggregating all that information, tracking it for the last two years, we were able to see all the patterns that emerged."
In March 2013, Amazon was in fifth place behind iTunes (fourth) and Hulu (third). Amazon was able to surpass both of those platforms over the last 12 months.
Image Credit: Qwilt
"They didn't really put all their effort into marketing," said Sahar. "This is almost organic growth by Amazon, which is pretty phenomenal."
Disclosure: At the time of this writing, Louis Bedigian had no position in the equities mentioned in this report.
Posted-In: Amazon Amazon Prime Dan Sahar HuluNews Success Stories Tech Interview Best of Benzinga
View Comments and Join the Discussion!