Apple Buys Novauris In Move To Upgrade Siri And Fight Off Competition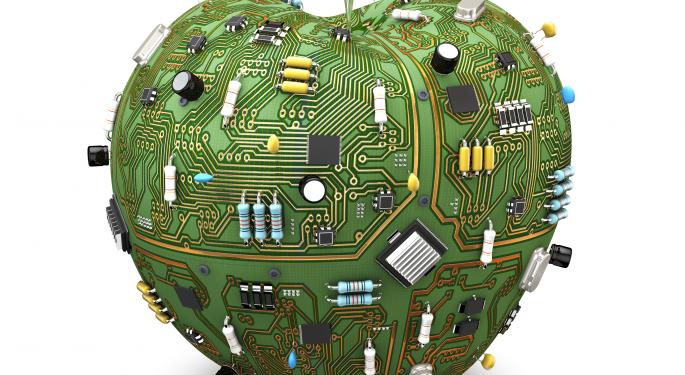 Asked about its acquisition of speech recognition technology company, Novauris Technologies, Apple (NASDAQ: AAPL) told TechCrunch, "Apple buys smaller technology companies from time to time, and we generally do not discuss our purpose or plans."
According to TechCrunch the technology held by Novauris, which originated as part of Dragon Systems, would be used to as part of Apple's overall efforts to improve the speech recognition features of Apple's Siri virtual assistant software.
With competitors like Google (NASDAQ: GOOG) Now and Microsoft (NASDAQ: MSFT)'s just unveiled "Cortana" forcing a showdown, the move could be important for Apple.
Related: Hold Off On Buying That Apple TV!
What Siri Lacks
Digital Trends compared the three top engines recently and concluded that "Cortana" could  shake up the virtual assistant space since it offers many of the features of Now but had the "attitude"of Siri.
In addition, the website noted that both Now and Cortana offer something Apple can't – user data via search engines, email systems, and other services offered by the competition. What Apple could do, via the Novauris acquisition, would be to improve the virtual assistant experience and accuracy, something users would value.
Apple's acquisition of Novauris actually took place last September, according to 9TO5Mac, based on Novauris CEO Yoon Kim's LinkedIn page. Although the Novauris website doesn't mention the acquisition, when TechCrunch called the U.K. offices, Novauris co-founder, Melvyn Hunt answered "Apple."
One important distinction between Novauris and its voice recognition competitors was the fact that it owned the core engine for its software, TechCrunch said. Apple, which tried to acquire Nuance, the technology behind Siri, would have strong interest in Novauris for that very reason.
Understanding Phrases
Apple has long had a habit of acquiring small companies and taking over the technology in order to use specific features in future products. According to Mashable that practice originated with Steve Jobs, who thought buying up other companies in general was a sign of defeat.
MacRumors noted that Novauris' main product, NovaSystem, a server-based distributed speech recognition system, was capable of handling multiple simultaneous voice requests and recognizing complete phrases, a significant advantage in the field of voice recognition.
That distinction was described on the Novauris website, which said, "NovaSearch doesn't carry out recognition at the word or sequence-of-words level, but rather identifies complete phrases from start to finish by matching them against a potentially huge inventory of possible utterances. This enables it to assemble information about what has been spoken over utterances of virtually any length and take near-optimal decisions."
At the time of this writing, Jim Probasco had no position in any mentioned securities.
Posted-In: Apple Cortana Dragon Systems Google Google NowNews Events Media Best of Benzinga
View Comments and Join the Discussion!