Google Gmail To Add 'Snooze Button' And Much More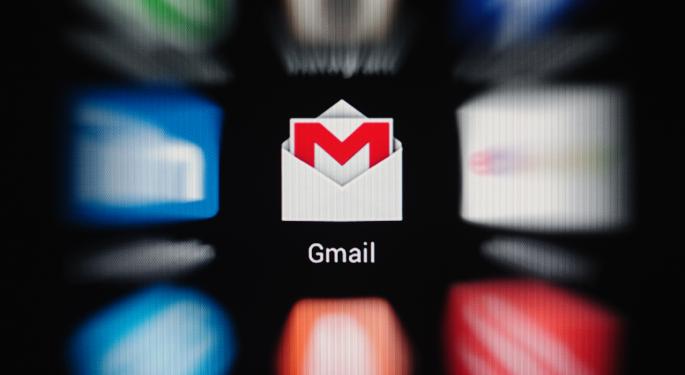 In an attempt to make Gmail more useful, Google (NASDAQ: GOOG) is reportedly in the process of developing several new features. One of them is a Snooze Button.
According to Geek.com, email you consider important, but not critical, could be "snoozed." This would cause the message to go into hibernation and resurface at the top of your inbox hours or even weeks later, depending on how you set the timer.
TechCrunch reported that the idea for the snooze button came from Mailbox, now owned by Dropbox. While that does not make the feature unique or new, adding it to Google's popular email program would certainly make it much more widespread.
Related: Gene Munster: Siri and Google Now Each Get a C+
Other new Gmail features reportedly in the testing phase include additional Inbox tabs beyond the current Social/Promotion/Forum/Updates tabs that already exist. New tabs could include such things as Travel, Purchases and Finance.
Another rumored feature, email pinning, would force an email message to stay at the top of your Inbox until you unpin it. That would be helpful for an event you need time to respond to or a message with contact information in it you need to access on a regular basis.
Currently, Gmail features a star system that allows you to identify important messages, but doesn't keep them at the top of the Inbox. That function would probably go away once pinning becomes a regular feature.
According to Geek.com, the rumored new features may or may not make it to the next version of Gmail. Moreover, it is likely there will be more. Google wants to make Gmail more useful with regard to organizing and using email messages, partly for users but also for Google's benefit.
The more Google knows what you think is important, the more it can tweak services like Google Now. The more it can tweak Google Now, the more time you will spend on the Internet viewing ads that help monetize Google.
Adding new useful features to Gmail also helps Google fight back against users switching to ad-free services like iCloud email. Although users often consider free ad-supported email services like Gmail annoying and even an invasion of privacy, the more helpful the resulting features are, the less likely consumers would be to switch to another product.
At the time of this writing, Jim Probasco had no position in any mentioned securities.
View Comments and Join the Discussion!
Posted-In: Dropbox email pinning FinanceNews Rumors Events Tech Media Best of Benzinga