Here's The State Many Are Betting Will Get Tesla's Gigafactory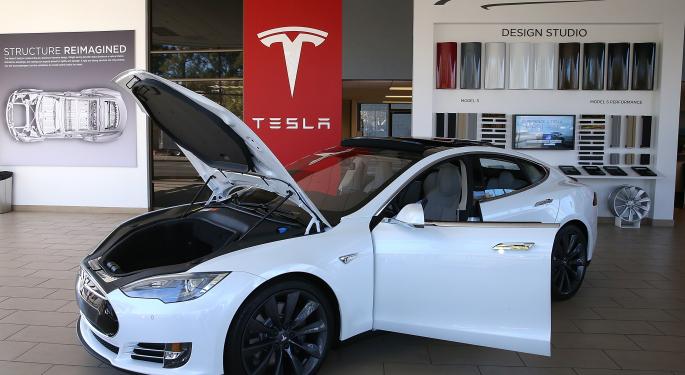 As Tesla (NASDAQ: TSLA) continued its march to open company-owned showrooms in as many states as possible, the real drama surrounded one question: Which state would get the company's $5 billion Gigafactory for lithium ion batteries?
According to Jalopnik, along with other sources including The Phoenix Business Journal, of the four states in the running, three of them - Arizona, Texas and New Mexico - have taken a back seat to the fourth – Nevada.
The stakes are very high with the winning state gaining a 100 to 200 acre plant with 6,500 new jobs and millions of dollars in tax revenue.
So why Nevada?
Behind the scenes officials said that the state famous for licensed gambling would be a good bet for the Gigafactory. For one thing, the sources said, Nevada was the only state where zoning and building permits had been discussed.
Related:  Elon Musk Wants Tesla Electric Truck to Compete with Ford F150
In addition, a 3,000-acre former Air Force base outside Reno is next to a rail line that runs directly to the not-too-distant Tesla plant in Fremont, California.
Nevada also comes with ample space for solar and wind power installation close to the potential plant site.
Finally, according to AutoBlogGreen, Nevada is the location of the only brine pool lithium production in the United States.
As a bonus, the Tesla store in Nevada has yet to see a legal challenge to its direct sales practices.
What About The Others?
The case for Nevada as the site for the Gigafactory wasn't considered a slam-dunk.
Texas, for example, is generally thought of as a pro-business state with low taxes. It is also a powerful manufacturing state.
In addition, Texas produces the largest amount of wind power in the United States. This would play to Tesla CEO Elon Musk's goal of powering as much of the plant as possible with renewable energy.
Arizona, on the other hand, leads the other states in solar power. Moreover, the state is known to offer sweet incentives to new companies relocating there.
New Mexico has been deciding whether to offer an economic incentive package to Tesla, which could be a big plus.
On the other hand, Tesla snubbed the state in 2008 when the company decided to build its Model S production facility in California instead of New Mexico. Some believed the snubbing would continue.
Meanwhile, The Wall Street Journal quoted a number of experts who have maintained that the whole idea of a Gigafactory is unnecessary.
Sam Jaffe, a battery consultant with Navigant Research, pointed out that although Tesla has said it wants to make 35 gigawatt hours of cells a year, battery makers maintain that the benefits of scale disappear after about one gigawatt hour.
At the time of this writing, Jim Probasco had no position in any mentioned securities.
View Comments and Join the Discussion!
Posted-In: Air Force arizona brine pool lithium production California Elon MuskNews Events Media Best of Benzinga