Burger King And Taco Bell Tag Team McDonald's For Fast Food Crown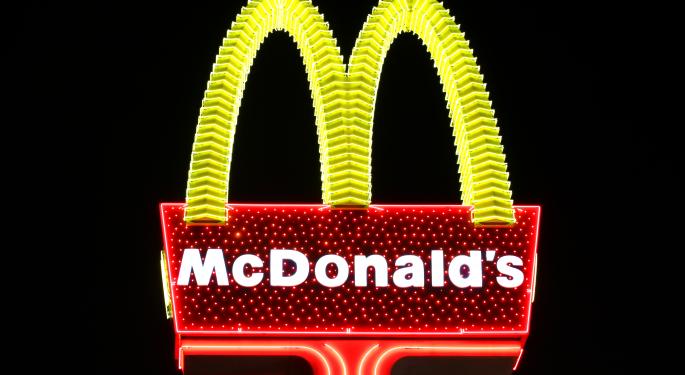 As if Yum! Brands (NYSE: YUM) Taco Bell trying to muscle in on breakfast wasn't enough, traditional rival, Burger King (NYSE: BKW) has entered the ring and is stealing customers from McDonald's (NYSE: MCD) in the U.S. So said Brian Sozzi of Belus Capital Advisors on Jim Cramer's The Street Tuesday.
Sozzi pointed out that while McDonald's U.S. same-restaurant sales have been down since Q4 2013, Burger King showed improvement each quarter in 2013 and were positive in Q4.
In addition, Burger king shares were up 15.3 percent year to date while McDonald's showed only a 0.86 percent gain over the same period.
Sozzi said the reasons behind the discrepancies had to do with differences in marketing, appeal, and menu structure between the two companies.
Burger King, Sozzi said, has used emotional marketing techniques, such as the Angry Whopper, while McDonald's offers up the inane-sounding Bacon Clubhouse Burger.
Related: McDonald's Comes Out Swinging, To Counter Taco Bell Breakfast Offerings
Appeal for Burger King has arisen from fried onion petals, Chipotle sauce, and other ideas that sound new and fresh compared with McDonald's less flashy offerings.
Finally, Sozzi said, the overall menu structure at Burger King is simple compared to McDonald's which has suffered from slow lines and products like a $12 burger in Switzerland.
On the other hand, as BurgerBusiness pointed out last month, the average McDonald's brought in $2.6 million in revenue last year versus Burger King's $1.2 million per store average. Number three chain, Wendy's (NASDAQ: WEN) brought in $1.5 million per store.
Nick Setyan of Wedbush Securities told Bloomberg that the four factors driving higher sales volumes at McDonald's include the fact the chain attracted more customers during off-peak hours, the brand's appeal to kids who love their Happy Meals, overall efficiency of store operations, and the number of marketing dollars spent on average versus the competition.
Burger King and McDonald's have long been rivals. That rivalry comes in at number 11 on CNNMoney's list of 50 Greatest Business Rivalries of All Time. It's a bitter, intense rivalry, personified by the words of McDonald's founder, Ray Kroc who once said of competitors like Burger King, ""If they were drowning to death, I'd put the hose in their mouth."
One thing is certain. Although McDonald's, based on overall revenue, has continued to rule the ring, both Burger King and breakfast newbie, Taco Bell, have made it clear they are "ready to rumble."
At the time of this writing, Jim Probasco had no position in any mentioned securities.
Posted-In: 50 Greatest Business Rivalries of All Time Angry Whopper Bacon Clubhouse Burger Belus Capital Advisors Brian SozziNews Events Media Best of Benzinga
View Comments and Join the Discussion!