This Million Dollar NBA Blunder Is Not What You'd Think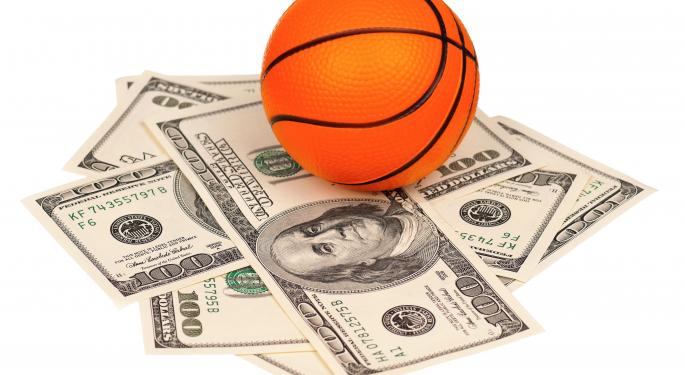 The world of sports is high-flying, fast-paced and filled with excitement. But not only do the players in such marquee leagues as the NFL, NBA and NHL take amazing risks and reap amazing rewards, but franchise owners and the leagues they are affiliated also take their fair share of risks.
Some of these bets pay off, like drafting sixth-round quarterback Tom Brady and replacing $100 million Drew Bledsoe with him. But sometimes sports bets not only fail to pay-off in the short term, but can cost big in the long term. This is exactly what happened when the NBA signed a little-known deal with a couple of brothers in 1976.
One of Sports Most Colossal Errors of Judgment?
The background of the NBA's biggest blunder started with the NBA's acquisition of the American Basketball Association. The NBA agreed to integrate four teams from the ABA, which included the teams now known as the Nets, Nuggets, Pacers and Spurs. But two remaining teams -- the Kentucky Colonels and the Spirits of St. Louis -- were not to be absorbed, the latter of which being owned by brothers Ozzie and Dan Salina. The owner of the Colonels, Dan Y. Brown, accepted a $3.3 million buyout, and went his merry way. The Salina brothers wanted more.
Related: No Joke: Tiger Woods To Miss First Masters Tournament Of His Career
In a highly-contentious meeting, which reportedly lasted all night, the brothers negotiated a deal that netted them $2.2 million upfront and TV revenue in perpetuity.
The magnitude of this blunder is difficult to imagine today. But to the NBA's credit, TV revenue was not very lucrative at the time of the agreement. Still, deciding to pay anything in perpetuity is difficult to understand from a business perspective. This means that not only would the Salina brothers be paid out as a result of the deal, but potentially their dependents would, as well.
The brothers have reaped millions of dollars of profits since the 1980-81 season, when the payments initially started. According to published reports, the brothers have pocketed at least $300 million since the inception of the contract, and only stand to earn more as the NBA looks to renegotiate its television contracts in 2015. As it stands, the contracts are worth a reported $7.4 billion.
In the years since the agreement, the NBA attempted to get out of the contract various times, but to no avail. Finally, in January 2014, it was announced that the NBA and the Salina brothers agreed to a $500 million settlement to terminate the contract once and for all.
Posted-In: ABA NBA Ozzie and Dan Salina Spirits of St. LouisNews Management Markets Best of Benzinga
View Comments and Join the Discussion!