Wal-Mart Sues Visa For $5 Billion Over Excess Fees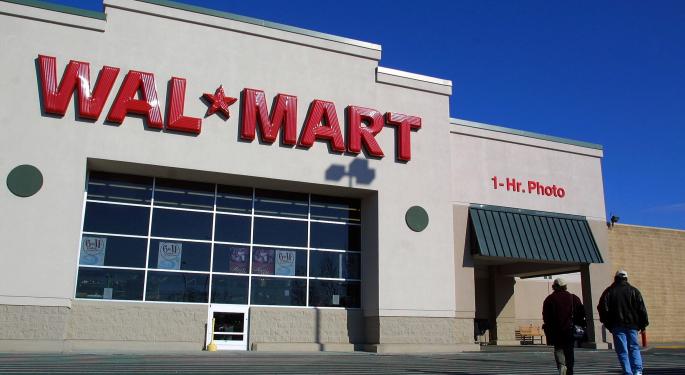 Wal-Mart Stores (NYSE: WMT) have filed a lawsuit against Visa (NYSE: V) claiming more than $5 billion in damages for what Wal-Mart claimed were unreasonably high interchange fees Visa charged the retailer.
In the lawsuit Wal-Mart claimed Visa conspired with banks to fix so-called "swipe fees" that were charged to merchants between 2004 and 2012. According to The City Wire, the suit charged Visa with raising interchange fees by 234 percent between 1998 and 2006.
Retailers typically pay a fee when their customer uses a credit or debit card. Wal-Mart, in its lawsuit, said the "swipe fees" Visa set were in violation of antitrust regulations. In addition, Wal-Mart said the excess fees resulted in more than $350 billion in fees over nine years that were, in part, charged back to customers in the form of higher prices.
The Wall Street Journal, in reporting on the lawsuit, said Visa declined to comment. The company denied that its fees were a violation of antitrust regulations.
Related: Wal-Mart's New 'Savings Catcher' Automates Price Comparison
The current lawsuit followed a 2003 class-action suit against Visa and MasterCard, to which Wal-Mart was a party. In that lawsuit, plaintiffs objected to card issuer requirements that merchants who accepted their credit cards also had to accept their debit cards. The result was a $3 billion judgment against Visa and MasterCard.
Others Cases
Interchange fees have long been a point of contention between card issuers and retailers. The fees, set by card networks and collected by banks such as JPMorgan Chase are too high, say retailers, because there is little competition.
Smaller retailers settled the issue with card issuers in 2012 and stand to receive as much as $5.7 billion because of that settlement. Larger merchants, like Wal-Mart, Target, and Macy's stayed out of those actions in order to pursue their own lawsuits, resulting in the suit filed this week.
Large retailers expressed concern that the agreements reached, so far, would not stop companies like Visa and MasterCard from raising card-processing fees later and would require merchants to waive their rights regarding fees assessed on mobile payments and other future payment methods.
In its suit Wal-Mart said, "The anticompetitive conduct of Visa and the banks forced Wal-Mart to raise retail prices paid by its customers and/or reduce retail services provided to its customers as a means of offsetting some of the artificially inflated Interchange Fees. As a result, Wal-Mart's retail sales were below what they would have been otherwise."
In addition, Wal-Mart noted that companies like Visa have been slow to adopt more secure data protection methods, which also hurts retailers.
In the suit, the company said, "Wal-Mart was further harmed by anti-innovation conduct on the part of Visa and the banks, such as perpetuating the use of fraud-prone magnetic stripe system in the U.S. and the continued use of signature authentication despite knowledge that PIN authentication is more secure, a fact Visa has acknowledged repeatedly."
At the time of this writing, Jim Probasco had no position in any mentioned securities.
Posted-In: antitrust regulations Interchange Fees JPMorgan Chase Macy'sNews Wall Street Journal Events Media Best of Benzinga
View Comments and Join the Discussion!