IPO March Madness Continues! TNET, AGTC, SQBK Open on March 27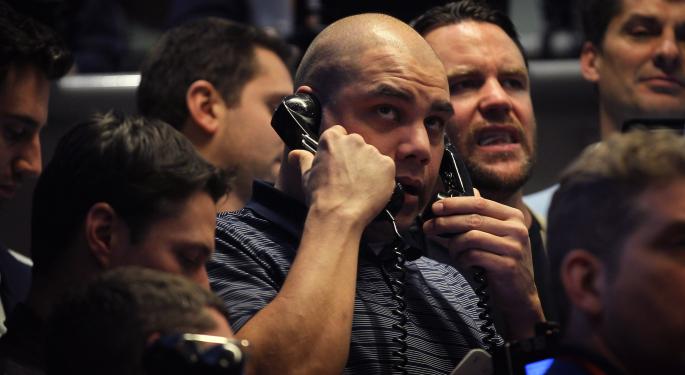 Three more IPOs rung the bell for the first time today, starting with TriNet (NYSE: TNET), then Applied Genetic Technologies (NASDAQ: AGTC), and wrapping up with Square 1 Financial (NASDAQ: SQBK) at 11:18 a.m EST.
TriNet
TriNet's 15.0M share IPO priced at $16.00 per share in the middle of the expected $15.00 to $17.00 range. With a volatile birth, TriNet opened at $18.50, quickly put in a low of $17.28, and then ended the day with a 19.4 percent gain at $19.21. The bookrunners were Deutsche Bank, J.P. Morgan and Morgan Stanley.
As a trusted HR partner for small businesses, TriNet provides critical HR solutions on an outsourced basis. The company's services include payroll processing, human capital consulting, employment law, compliance and employee benefits including health, insurance and retirement plans. Founded in 1988, the company is headed by Martin Babinec in San Leandro, California.
Applied Genetic Technologies
Applied Genetic Technologies priced its 4.2M share offering at $12.00 per share, below the expected range of $13.00 to $15.00. While pricing below the expected range, Applied Genetics proved there is still plenty of market demand for biotech companies by opening promptly at 10:25 a.m. for a price of $12.75 per share and then moving decisively higher to $16.82 before closing the day up 15.7 percent at $14.75.
The company was brought to market through BMO Capital and Wedbush. Using a proprietary gene therapy platform to develop its products, Applied Genetics is a cutting edge clinical-stage biotechnology company.
Their products transform lives of patients with severe inherited orphan diseases in ophthalmology. The products candidates are designed to treat X-linked retinoschisis, Achromatopsia, and X-linked retinitis pigmentosa. They also focus on rare diseases of the eye caused by mutations in single genes that can severely affect vision and which currently lack effective medical treatments.
Square 1 Financial
Square 1 Financial opened at $20.00 per share at 11:18 a.m. Thursday morning after pricing its 5.8M share IPO at $18.00 above the expected range of $15.00 to $17.00.
The company's shares muddled through the day finding its way to a low of $19.53 and a high of $20.70 before settling in with a closing price of $20.61, up three percent. The company's joint bookrunners were Keefe, Bruyette & Woods, and Sandler O'Neill & Partners.
Square 1 Financial provides financial services to entrepreneurs and venture capitalists including term commercial loans, revolving lines of credit, asset-based loans, deposit products, and fee-based banking services, including credit-cards, foreign exchange, cash management and letters of credit.
The use of the proceeds from the offering will be used to support long-term growth by increasing their capital ratios in response to the new standards under Basel III, for general working capital, and to pay off an indebtedness. Friday will be a busy day in the world of IPOs with five new offerings.
Bluerock Residential Growth (NYSE: BRG) is pricing 3.3M shares at an expected price of $15.00 through Wunderlich. CBS Outdoor Americas (NYSE: CBSO) is pricing 20.0M shares in the range of $26.00 to $28.00 through Goldman Sachs, Bank of America Merrill Lynch and Morgan Stanley.
Everyday Health (NYSE: EVDY) is expected to price its 7.2M share offering between $13.00 and $15.00. The bookrunners are J.P. Morgan, Credit Suisse and Citi.
Aerohive Networks (NYSE: HIVE) has 7.5M shares expected to price between $9.00 and $11.00. The shares are being offered by Goldman Sachs and Bank of America Merrill Lynch.
2U (NASDAQ: TWOU) is expected to price its 1.2M share offering in the range of $11.00 to $13.00 through Goldman Sachs and Credit Suisse.
Disclosure: At the time of this writing, the author holds no positions any of the above companies.
Posted-In: News IPOs Best of Benzinga
View Comments and Join the Discussion!