Matterport CEO Bill Brown Discusses Google's Project Tango, Mobile Innovation And More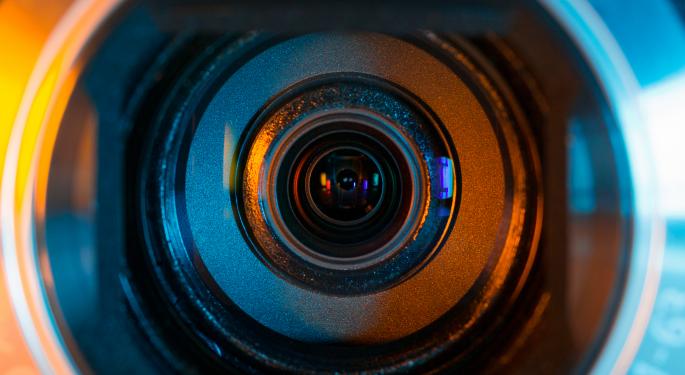 Google's (NASDAQ: GOOG) Project Tango proved to be a one-of-a-kind initiative aimed at bringing room-mapping, 3D sensor technology to mobile devices.
After starting Project Tango, Google gave one of its early devices to Matterport, a company that specializes in developing 3D models of rooms using software and a special 3D camera.
The startup recently released its first camera for $4,500. That might be too expensive for the average consumer, but it might be a small price to pay for businesses that need to make a 3D model.
"The first thing [we wanted to do] was deliver a professional product and this end-to-end solution and provide that and get this out to all these different groups that will make use of it," Bill Brown, CEO of Matterport, told Benzinga. "The second piece, as we've been doing all this, we've seen a lot of activity from folks in the mobile space. The Google Project Tango is probably one of the more obvious areas where people are making progress."
Related: Google Glass Will Rule Augmented Reality Market At Launch, Says Infinity AR CEO
Brown described Matterport's camera as a 3D equivalent to a high-end DSLR (digital single-lens reflex) camera. He said it was designed for professionals to use on site, but it's not like surveying, so non-technical individuals can use it as well.
To scan a room, the photographer will place the camera (which sits on a tripod) in different spots in the designated room. The camera is motorized and is operated wirelessly using an iPad application. Photographers can use the app to make the camera perform a 30-second sweep of each area.
When each sweep is done, the user moves the camera to a new location. Once that process is complete (the average room takes no more than 10 minutes to scan; a 1,500 square foot room takes roughly an hour), the images will be sent back to the iPad. From there, the images will be uploaded to Matterport's cloud server, which will put them together and build an accurate 3D model of the room that was scanned.
Matterport was also able to perform a complete room scan using a special prototype phone from Google, as illustrated in the video below:
Brown envisions a number of uses for Matterport's room-scanning technology, including home-related retail. For example, a furniture or home improvement store could allow someone to make a model of a customer's home and then digitally alter that model to show how the new furniture or other changes may affect that home.
But Matterport isn't limited to retail. The company has a lot of plans for how its technology may be used, including video games.
"We've been talking to some of the folks at different studios," said Brown. "There are a bunch of uses for gaming that we certainly think are going to be used. The two big things they're looking to do is get some time savings and get these environments, like that first stage. At the same time, the finish that they go through on those games is the next step up from what comes out of the camera.
"But it's similar to the fact [that] you never see a picture that comes right out of the camera on the cover of the magazine. You've got the post-processing that's going to happen. But it gives them a head start from a timing perspective."
Related: Will Apple Or Google Bring The Augmented Reality Revolution?
This could be particularly useful in developing games that are based on movies. A developer could use Matterport's camera to scan a movie set and instantly bring that environment into the game. A team of graphic designers would be needed to polish and perfect the image, but Matterport's technology could save them a lot of time -- and improve their accuracy in mimicking the film's world.
Engaging With Google
Before coming to Matterport, Brown served as the GM of Converged Consumer Solutions at Motorola Mobility. He was there during the Google acquisition, but he said that he wouldn't characterize that as being the reason why Google and Matterport started working together.
In fact, Matterport had multiple connections to Google -- including Matterport co-founder Matt Bell, who previously worked on Google's research team.
"I think just understanding how the organization works probably helped to understand good ways to engage with them," Brown added.
A Mobile Future
Right now, Matterport could make a ton of money selling its $4,500 camera. But what will happen to the business if and when mobile takes over, as Matterport predicts?
"We view ourselves as a software and services company," said Brown. "We make money, yes -- right now we sell the camera, but we also make money off of the cloud services to do all that model processing. We believe that is what we would do long-term. We think as you go to mobile, you're going to get a huge volume of models that would come through our cloud services. That's really what the long-term business model is."
Brown sees a parallel between digital photography equipment, where professionals still use high-end camera, while everyone else uses the camera that's already in their pocket. He said that he "absolutely" envisions a future where consumers will want to use Matterport as well.
"Our plan is to be the site that houses 3D media, whether you're a consumer or a professional," he added.
Disclosure: At the time of this writing, Louis Bedigian had no position in the equities mentioned in this report.
Posted-In: Bill Brown Google Matt BellNews Success Stories Startups Tech Interview Best of Benzinga
View Comments and Join the Discussion!