After Lagging Behind, Microsoft To Release Office For iPad Thursday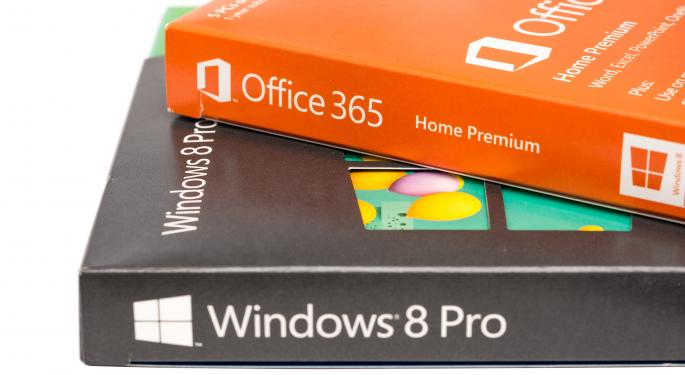 Microsoft (NASDAQ: MSFT) is set to release Office for iPad Thursday, according to numerous sources, but the question that investors are asking is, does anybody care?
It's not that Microsoft is just now embracing the iOS environment. There's already an Office app for iPhone users but most agree that it doesn't allow for true (or easy) productivity. For that reason, people have waited for an app for iPads.
Microsoft is expected to make it part of its Office 365 suite that allows users to pay a monthly fee for unlimited access to Office products. Plans start at $99.99 per year for individual users or business plans from $5 per user per month.
From the perspective of investors, is this any type of game-changing announcement? Many continue to criticize Microsoft for being too late to the party. The iPad was born on April 3, 2010, and from the beginning it was a hit for Apple. Like Microsoft did countless times in the past, it either failed to see the opportunity in the newest Apple gadget or was too stubborn to admit it.
Related: Wall Street's Thoughts On Zuckerberg's Latest Purchase
What if Apple would have quickly developed an Office app in 2010? To be fair, the cloud infrastructure like Office 365 wasn't in place yet but Microsoft could have charged a flat fee. At the time, Office was still the go-to productivity suite, but as users snubbed their desktops, they also snubbed Office.
In the time that Office wasn't an option for mobile tablet users, Google developed Google Docs, now part of Google Drive that allowed users to do nearly everything they do on Office, in a cloud environment.
Apple had Pages and other smaller companies developed productivity apps to answer consumer demand for productivity on their tablet.
There will be plenty of business users and a healthy portion of individuals who will welcome Office for their iPad, but investors are wondering how much revenue Microsoft lost as a result of stubbornly waiting so long.
Office 365 has done well for Microsoft. In one year, its grown to 3.5 million paying customers and some analysts predict $4 billion of additional revenue from the Office unit in the near future.
Sure, Microsoft wanted to create a stronger value proposition for its failed Surface tablet but that doesn't appear to have worked.
On the other hand, Apple is likely happy about the release. Some say that Apple could see a measurable boost in sales from consumer and enterprise customers heavily reliant on Microsoft Office, but stayed in the PC environment solely for Office. That's a larger amount of people than some would believe.
Disclosure: At the time of this writing, Tim Parker was long Apple. 
Posted-In: Apple Google Google Drive iPad MicrosoftNews Rumors Tech Best of Benzinga
View Comments and Join the Discussion!