'Candy Crush' Maker King Digital Entertainment Gets Crushed: IPO Review For March 26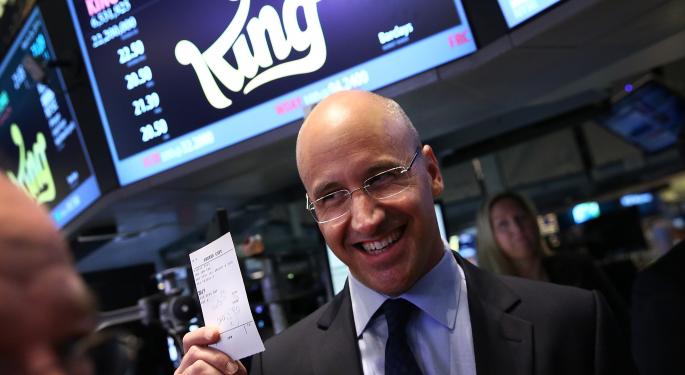 Candy Crush Saga creator King Digital Entertainment (NYSE: KING) opened for trading today with abysmal results after its highly anticipated IPO.
King's IPO priced at $22.50 per share inside the expected range of $21-$24 per share.
Wednesday morning, the stock opened for trading at 9:51 am EST for a price of $20.50. The stock quickly tumbled more than 10 percent before ending the day down 15.6 percent at $19.00. Barclays, Credit Suisse, Deutsche Bank, J.P. Morgan, Merrill Lynch and RBC Capital Markets were the joint bookrunners.
King Digital develops casual games for digital application use. The games are designed to be highly engaging while providing a combination of challenge and progress to provide a sense of achievement to the user. Aside from Candy Crush Saga, the firm's most notable name, other games include Pet Rescue Saga, Farm Heroes Saga, Bubble Witch Saga and Papa Pear Saga.
Potential catalysts for the stocks rapid decline are over dependence on Candy Crush, a declining base of paying players, management's lack of discussion around their development pipeline, and an investor perspective of King as being like another Zynga. Last year, Zynga opened more than 50 percent below its offering price of $12.00 and has yet to see a profit for investors who bought the IPO.
Nord Anglia Education (NYSE: NORD)
Nord Anglia Education's IPO priced late last night at $16.00 per share in the middle of its expected range of $15.00-$17.00 raising $304,000,000. The joint bookrunners were Barclays, BMO Capital, Credit Suisse, Deutsche Bank, Goldman Sachs, and J.P. Morgan. Opening for trading at 9:39 a.m. at a price of $17.50, Nord briefly traded lower to $17.24 before moving notably higher to close the day up 12.5 percent at $18.00 per share.
Nord Anglia's business is in the operation of schools for children and young adults. They acquire learning services contracts that allows them to provide educational support and advice. The proceeds of the offering will be mainly used to pay down existing debt.
1347 Property Insurance Holdings (NASDAQ: PIH)
1347 Property Insurance was expected to price its 2.3M share IPO between $15.00 and $17.00 per share on Tuesday. As of 4:00 p.m. eastern time, the stock has yet to announce a price or open for trading. Tomorrow is expected to see the opening of three IPOs.
Applied Genetic Technologies (NASDAQ: AGTC) is offering 3.6M shares and expects to price between $13.00 and $15.00 per share through BMO Capital and Wedbush.
Square 1 Financial (NASDAQ: SQBK) will be offering 5.9M shares with an expected range of $15.00 to $17.00. Sandler O'Neill and Keefe Bruyette & Woods is the main bookrunner. 
TriNet (NYSE: TNET) is expecting to price 15.0M of its shares between $15.00 and $17.00 tomorrow through J.P. Morgan, Morgan Stanley, And Deutsche Bank. Disclosure: At the time of this writing, the author holds no positions any of the above companies.
Posted-In: News IPOs After-Hours Center Best of Benzinga
View Comments and Join the Discussion!