Candy Crush Maker Raises IPO Valued At $7 Billion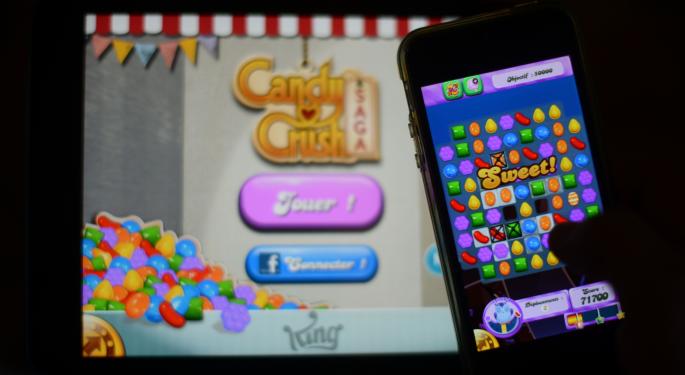 King Digital Entertainment (NYSE: KING) will enter the public market Wednesday on the New York Stock Exchange, sporting a valuation of more than $7 billion.
The maker of Candy Crush Saga, the hottest social game since Farmville, sold 22.2 million shares at $22.50 each. The company raised $500 million implying a valuation of $7.09 billion.
But some analysts say that the fact that King's $22.50 price is at the midpoint of its range is proof that investor confidence and overall interest is lacking. Investors fear that King is a one-hit wonder. According to Michael Yoshikami, chief executive of Destination Wealth Management, "The red flag for this IPO is that King's revenues and fortunes are built on one game."
In fact, three-quarters of its revenue come from Candy Crush, but who can blame the company?
Related: Analyst: The Apple/Comcast Deal Isn't What People Think
Candy Crush was the top revenue producer in Apple's app store for 2013
The game draws 93 million active years that play 1.085 billion games each day.
The average player plays nearly a dozen games daily.
King's Q4 2013 revenue was $632 million with $269 million of that as profit.
But its other games, including Farm Heroes Saga and Bubble Witch Saga, only have 20 million daily active users—a fact that scares investors.
The company is debuting at a discount to its peers. Giant Interactive trades at 6.3 times estimated 2014 sales and Zynga commands a 5.2 multiple. Activision Blizzard, the largest of the U.S. video-game publishers, trades at 3.2 times sales. King's 2.7 multiple is lower but is based on $2.62 billion in sales this year—a number that's largely up in the air given Candy Crush's likely peak among users.
Could the problem with King be that it's paying the price of investor skittishness dating back to the Zynga IPO? Zynga went public in December of 2011 and immediately shed five percent of its value on opening day. From there, it's been nothing but pain—dropping more than 80 percent. Zynga, so far, hasn't found a way to move beyond its then-flagship game, Farmville.
The price action in the coming days will reveal investor sentiment. If the early investors flip their shares and the stock slides, muck like Zynga, King could be in for a rough ride.
King has to find the next Candy Crush to prove to investors that it's a viable, investable company—not a single product.
Disclosure: At the time of this writing Tim Parker had no position in the companies mentioned and has no plans to purchase shares in the next 90 days.
View Comments and Join the Discussion!
Posted-In: Candy Crush farmville King Michael Yoshikami ZyngaNews IPOs Tech Best of Benzinga