Ackman Nearing Break-Even Point On Herbalife?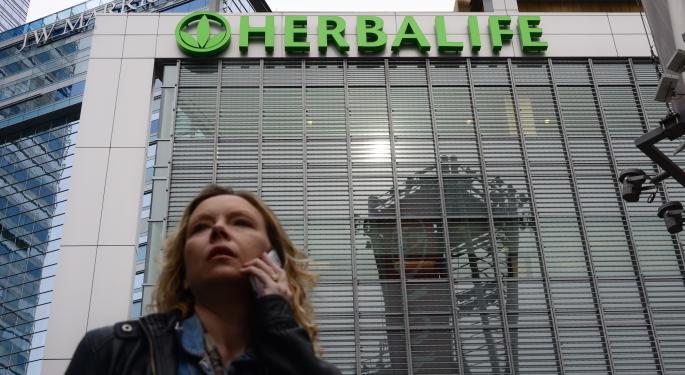 According to Bloomberg over the weekend, activist investor Bill Ackman's Herbalife (NYSE: HLF) position is nearing break even—good news for his fund, Pershing Square Capital, that had lost a lot of money on the bet.
Ackman's Herbalife short bet has been the hedge funds biggest loser since 2004 according to internal documents. At one point, the position was down nearly 50 percent representing a $500 million loss.
But recently, things have looked up for Ackman. When he opened the short position, his thesis was that Herbalife was a pyramid scheme and that government regulators would investigate the company. The company would go out of business and the stock would go to zero making Ackman and his company a lot of money.
Things didn't go as planned for Ackman. Soon, big investors like Carl Icahn poured into the stock sending shares as high as $81.50 at the beginning of the year.
On March 12, Herbalife disclosed that the FTC had started a probe into its practices. This probe capped off selling pressure since reaching the $81.50 high.
Related: Walgreen Earnings Preview: In Need Of A Booster Shot?
In the past two weeks the stock has lost 15 percent of value, sending it to an eight-month low of $49.54—a nearly 40 percent loss from the stock's highs.
Ackman apparently restructured the position to long-term put options, making it difficult to know specifically where his break-even point is. The stock, however, traded at an average of $48.58 at the time when he was said to accumulate most of his shares.
Those with long positions might be selling en masse but according to Michael Swartz, an analyst at Sun Trust Banks, the fact that the FTC is conducting a civil investigation isn't an indication of wrongdoing. For now, it's nothing more than a request for information.
But Monday morning brought news that has Herbalife up about eight percent in premarket trading.
The company announced in a press release that it will nominate three new board members from Icahn Enterprises adding to the seats that Icahn employees currently hold.
"The current Icahn representatives have brought considerable insight and experience to our board and we look forward to working with the additional representatives in a similarly collaborative way," said Herbalife CEO Michael Johnson.
Whether this morning's news is short covering or it places a floor under the stock is unknown, but Icahn is hoping that the 40 percent loss will turn the other way. As all of Wall Street knows, Ackman and Icahn aren't exactly the best of friends.
Disclosure: At the time of this writing, Tim Parker had no position in the companies mentioned.
Posted-In: Bill Ackman Carl Icahn HerbalifeNews Financing Best of Benzinga
View Comments and Join the Discussion!