The 'Last Mile' Connection: Why Would Apple And Comcast Partner Up?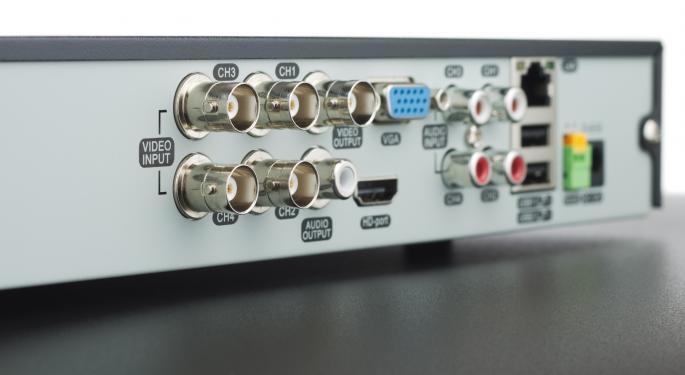 If The Wall Street Journal story is true, Apple (NASDAQ: AAPL) is looking to get into the set-top TV business.
According to the Journal, Apple is in very early talks with Comcast (NASDAQ: CMCSA) about setting aside a dedicated section of the "last mile" for streaming of content to its set top box.
If you receive cable service, you can probably imagine that the link between your cable box and your cable company isn't a single wire. Along the route your signal travels the same digital highway as other signals.
The most congested area of that highway is the final section where it links to your home—called "the last mile" in the cable industry.
Cable companies already set aside a portion of that highway for their own cable service so there's no blip or pause when you watch their content -- but other boxes, such as Apple's current Apple TV, stream content from the internet—the same internet that runs through the densely trafficked "last mile."
Apple is willing to pay to get its set-top box in that area where a cable company's signal resides.
Related: Weekly Highlights: iPhone 6 Factory, Sony's Project Morpheus And More
But cable companies are territorial and when somebody like Apple comes in with the intention of disrupting the cable industry much like it did the music industry, there's bound to be pushback.
And there is.
First, according to reports, Apple wants to stream live and on-demand content. It would effectively become your new cable box—taking the place of the one provided by your cable company.
Cable companies, however, are none too happy about Apple's demand that customers log in using their Apple ID. This would give Apple more control of the revenue stream that cable companies don't want to give up. Apple would also want a portion of the monthly service fee.
Comcast doesn't want to give up control of its customers or the data, according to sources.
The main issue still remains: In order for Apple's TV dream to become reality, Apple has to negotiate deals with the media companies that own the content and that's something that has proven difficult for everybody trying to enter the TV space. If Apple can successfully negotiate such agreements, Comcast wants to assure that the price its customers pay for service wouldn't rise.
Apple has its eye set on Comcast because it's already the largest cable provider in the United States but its intent to acquire Time Warner Cable would give Comcast about 30 million subscribers. If Apple can get Comcast on board, it would be difficult for others to say no.
Disclosure: At the time of this writing, Tim Parker was long Apple.
Posted-In: Apple Apple TV ComcastNews Rumors Tech Best of Benzinga
View Comments and Join the Discussion!