Benzinga's M&A Chatter for Monday March 17, 2014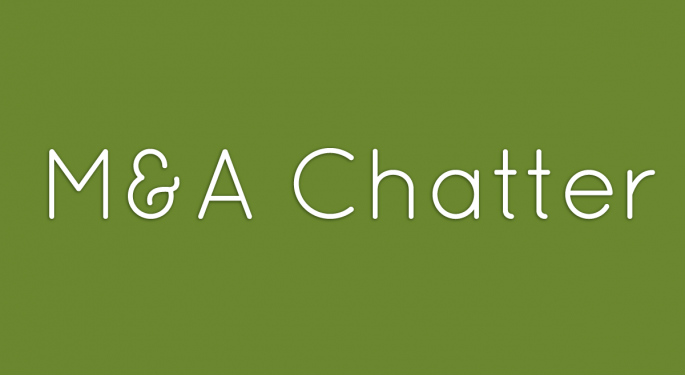 The following are the M&A deals, rumors and chatter circulating on Wall Street for Monday March 17, 2014:
Vodafone to Acquire Ono for €7.2B
The Deal:
Vodafone (NASDAQ: VOD) announced Monday it has agreed to acquire Spanish cable operator Ono, for a total consideration equivalent to €7.2 billion. Ono shareholders reportedly approved plans last week for an IPO.
The transaction is expected to close in Q3 2014. Vodafone closed Monday at $7.58, a gain of 3%.
Hastings Entertainment to be Acquired by Affiliates of Joel Weinshanker for $3.00/Share
The Deal:
Hastings Entertainment (NASDAQ: HAST) announced Monday that it has entered a Merger Agreement with wholly-owned subsidiaries of Joel Weinshanker. Under the agreement, upon completion of the merger, each share of Hastings Entertainment will be converted into the right to receive a cash payment of $3.00 per share.
Hastings Entertainment closed Monday at $2.98, a gain of 56%.
Matthews to Acquire Schawk in Cash, Stock Deal Valued at $20/Share
The Deal:
Matthews International (NASDAQ: MATW) announced Monday that the Company has agreed to acquire global brand development company Schawk (NYSE: SGK) for $11.80 per share in cash and 0.20582 shares of Matthews' common stock. Based on the closing price of Matthews' stock on March 14, 2014, the total value of the deal is $20 per share or approximately $577 million.
The deal is expected to close in the quarter ending September 30, 2014.
Schawk closed Monday at $19.94, a gain of 35%.
View Comments and Join the Discussion!