Market Wrap For March 17: Investors Focused On Economic Data Instead Of Crimea Concerns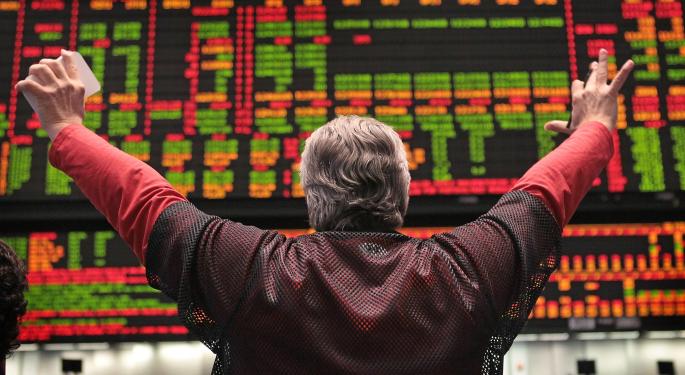 U.S. stocks rose as investors focused on positive economic data rather than the tense situation in Ukraine.
Economic reports showed that U.S. industrial production rose in February.
President Obama imposed sanctions against Russian and Crimea officials following an election on Sunday which favored Crimea separating from Ukraine and joining Russia. The election was condemned by many nations worldwide with its results not being recognized.
The Dow gained 1.13 percent, closing at 16,247.22.
The S&P 500 gained 0.96 percent, closing at 1,858.83.
The Nasdaq gained 0.81 percent, closing at 4,279.95.
Gold lost 0.90 percent, trading at $1,366.60 an ounce.
Oil lost 0.89 percent, trading at $98.01 a barrel.
Silver lost 1.13 percent, trading at $21.17 an ounce.
News of Note
March Empire State Factory Index rose to 5.61 in March from a previous reading of 4.48.
February Industrial Production rose 0.6 percent, greater than the expectations for a 0.3 percent rise. Capacity utilization read 78.8 percent, above the 78.6 percent consensus.
NAHB Housing Market Index read 47, lower than the expectations of 50.0.
Analyst Upgrades and Downgrades of Note
Analysts at Raymond James downgraded Aaron's (NYSE: AAN) to Market Perform from Outperform with a price target of $30. Shares hit new 52 week highs of $32.64 before closing at $32.51, up 1.25 percent.
Analysts at Goldman Sachs downgraded Baxter International (NYSE: BAX) to Buy from Conviction Buy with a price target lowered to $77 from a previous $83. Shares gained 0.02 percent, closing at $66.50.
Analysts at Argus Research downgraded Facebook (NASDAQ: FB) to Hold from Buy. Shares gained 1.51 percent, closing at $68.74.
Analysts at Barclays downgraded General Dynamics (NYSE: GD) to Equal-weight from Overweight with a price target of $119. Shares gained 0.75 percent, closing at $108.44.
Analysts at Credit Suisse downgraded GNC Holdings (NYSE: GNC) to Neutral from Buy with a price target lowered to $51 from a previous $65. Shares lost 2.79 percent, closing at $45.25.
Analysts at Goldman Sachs upgraded Lorillard (NYSE: LO) to Buy from Neutral with a $60 price target. Shares gained 0.77 percent, closing at $52.26.
Analysts at Goldman Sachs upgraded Patterson-UTI Energy (NASDAQ: PTEN) to Conviction Buy from Neutral with a price target raised to $37 from a previous $28.50. Shares gained 4.58 percent, closing at $30.11.
Analysts at Baird reiterated an Outperform rating on Tesla Motors (NASDAQ: TSLA) with a price target raised to $275 from a previous $245. Shares gained 1.31 percent, closing at $233.99.
Analysts at Monness Crespi Hardt initiated coverage of VMware (NYSE: VMW) with a price target of $125. Shares hit new 52 week highs of $110.00 before closing the day at $109.64, up 3.92 percent.
Recommended: 7 Hostile Takeovers, Corporate Disputes And Good Old Spats That Are Livening Up Boardrooms (And Newsrooms)
Analysts at Wedbush maintained an Outperform rating on Zynga (NASDAQ: ZNGA) with a price target raised to $7 from a previous $6. Shares lost 2.20 percent, closing at $5.34.
Equities-Specific News of Note
Tableau Software (NASDAQ: DATA) has filed a secondary offering of 3.3 million shares at Friday's closing price of $90.31. Shares gained 0.17 percent, closing at $90.46.
Hertz Global (NYSE: HTZ) will spin off its construction rental business at a $4.5 billion valuation. An official announcement is expected later on this week. Shares gained 4.77 percent, closing at $27.22.
Under Armour (NYSE: UA) announced that its board of directors approved a 2:1 stock split to take place towards the end of March. Shares hit new 52 week highs of $121.43 before closing the day at $119.67, up 1.98 percent.
Alibaba has confirmed that it plans to raise around $15 billion in an IPO offering in New York to become a "more global" and transparent company. The company's IPO will very likely be the largest raising ever by a Chinese company on the American markets. Yahoo! (NASDAQ: YHOO) is a 24 percent owner of Alibaba. Shares of Yahoo! gained 4.02 percent, closing at $39.11.
According to CNBC, Amazon.com (NASDAQ: AMZN) has slipped a notch in the mind of its consumers following the company's recent hike in the annual price of Amazon Prime. Shares gained 1.06 percent, closing at $375.04.
58.com (NASDAQ: WUBA) filed to sell up to $400 million worth of shares. The company has not disclosed how many shares it intends to issue and how many shares will be sold by already existing holders. Shares lost 4.52 percent, closing at $49.48.
Analysts at Goldman Sachs said that China Mobile's move to require all 4G phones to support five air interfaces will bode well for Qualcomm's (NASDAQ: QCOM) 4G baseband chip sales and Chinese royalty collections. Shares of Qualcomm hit new 52 week highs of $77.31 before closing the day at $77.02, up 3.05 percent.
According to Marbridge Consulting, Alibaba Group will invest in Sinopec's (NYSE: SNP) consumer gasoline sales subsidiary. Shares of Sinopec gained 2.13 percent, closing at $85.78.
Encana (NYSE: ECA) is in talks to sell its Wyoming natural gas assets to Carlyle Group (NYSE: CG) and Natural Gas Partners for around $2 billion. Shares hit new 52 week highs of $20.64 before closing the day at $20.41, up 0.89 percent.
Keurig Green Mountain (NASDAQ: GMCR) will replace WPX Energy in the S&P 500 index on March 21. Shares of Keurig Green Mountain gained 2.04 percent, closing at $115.56.
General Motors (NYSE: GM) said that it will recall 1.55 million vehicles following an internal safety review. The recall will include the Chevrolet Express, GMC Savana, Cadillac XTS, Buick Enclave, GMC Acadia, Chevrolet Traverse and Saturn Outlook. The company will take a $300 million charge in the first quarter as a result of the recall. Separately, analysts at Stifel noted that the selloff in shares of General Motors is overdone. Shares gained 1.58 percent, closing at $34.63.
iRobot (NASDAQ: IRBT) announced that its Ava 500 robot is available for delivery in the U.S., Canada and several European markets through certified Cisco resellers. A YouTube video demonstrating the robot could be viewed here. Shares gained 5.57 percent, closing at $42.49.
NorthStar Realty Finance (NYSE: NRF) has agreed to buy a healthcare real estate portfolio of 43 private-pay senior housing facilities and 37 skilled nursing facilities from two private groups for $1.05 billion. The acquisition will boost the company's healthcare property portfolio by approximately 65 percent. Shares lost 0.86 percent, closing at $16.07.
Chesapeake Energy (NYSE: CHK) has filed with the SEC for a possible spinoff of its oilfield services division. The company said that it plans for the spinoff to be tax-free to its shareholders. Shares lost 1.36 percent, closing at $24.69.
Related: Chesapeake Files Registration To Spin-Off Oilfield Unit
Sears Holdings' (NASDAQ: SHLD) board of directors approved the separation of Lands' End from the company with a spinoff transaction to occur on April 4 to shareholders of record on March 24. Lands' End will trade on the Nasdaq exchange following the spinoff. Shares gained 1.89 percent, closing at $44.84.
Winners of Note
It was previously reported that Sina (NASDAQ: SINA) would launch a Weibo IPO. Investors are waking up to news that the Chinese micro-blogging service has failed to raise $500 million in an IPO in the U.S. Weibo warned investors over uncertainty issues stemming from strict Chinese government regulation, particularly a law in which Internet users who knowingly share information considered to be defamatory could face jail time in China. "The implementation of this newly promulgated judicial interpretation may have a significant and adverse effect on the traffic of our platform and discourage the creation of user generated content," the company said in its filing. The government places companies like Weibo in charge of monitoring their own platform to ensure compliance with local laws and regulations. The government "may require us to limit or eliminate the dissemination of such information on our platform. Failure to do so may subject us to liabilities and penalties and may even result in the temporary blockage or complete shutdown of our online operations," Weibo said. Separately, Analysts at Stifel maintained a Buy rating on Sina with a $100 price target. Shares gained 6.56 percent, closing at $68.83.
Five Prime Therapeutics (NASDAQ: FPRX) signed a collaboration deal with Bristol-Myer Squibb for the discovery, development and commercialization of immune-oncology therapies directed toward two immune checkpoint pathways using Five Prime's target discovery platform. Five Prime is set to receive an upfront payment of $20 million and will receive $9.5 million over the duration of the term. Five Prime stands to reap as much as $300 million in milestone payments for each collaboration target in addition to a tiered royalty payments relating to the sales of the products. As part of the agreement, Bristol-Myer will acquire 4.9 percent of Five Prime's common stock in a deal valued at $21 million. Shares of Five Prime surged to new 52 week highs of $23.08 before closing the day at $22.99, up 22.61 percent.
Recommended: 420 Investor Alan Brochstein: United States Has Led A Failed War On Drugs
According to analysts at Baird, InvenSense (NASDAQ: INVN) is the sole motion sensor supplier for Samsung's soon to be released Galaxy S5 smartphone. The analysts also speculated that the company could play a role in a potential Apple smartwatch. Shares gained 6.46 percent, closing at $22.74.
This morning, Kandi Technologies (NASDAQ: KNDI) report its fourth quarter results. The company announced a net income of $4.60 million on revenue of $50.6 million. There is no consensus estimate. EV sales surged 193.7 percent year over year to $40 million with 3,568 "pure" EV unit sales. Gross margin rose to 22.5 percent in the quarter from 17.1 percent in the same quarter last year. Shares surged to new 52 week highs of $22.11 before closing the day at $21.41, up 23.33 percent.
Decliners of Note
Intercept Pharmaceuticals (NASDAQ: ICPT) announced that its liver disease drug obeticholic acid (OCA) for primary biliary cirrhosis has been successful in its POISE phase III clinical trial. The drug treats a disease in which bile ducts in the liver become damaged, allowing harmful substances to build up and scar the liver tissue. While this may seem as a positive, The Street.com's biotech expert Adam Feurestein noted that the product has caused cardiovascular side effects in a separate phase II trial which the company said are insignificant. Separately, Analysts at Needham maintained a Buy rating on Intercept Pharmaceuticals with a price target raised to $500 from a previous $320. Shares lost 11.92 percent, closing at $407.16.
Earnings of Note
This morning, JA Solar Holdings (NASDAQ: JASO) reported its fourth quarter results. The company announced an EPS of $0.16, beating the consensus estimate of $0.01. Revenue of $357.3 million beat the consensus estimate of $291.82 million. Net income for the quarter grew to RMB 139.5 million ($23.0 million) from a net loss of RMB 227.0 million ($37.5 million) in the previous quarter. Gross margin improved to 15.5 percent from 11.3 percent in the previous quarter as the company continues to perform well in all key regions in China. The company plans to build out its position in markets across Asia, Europe and North America and will explore opportunities in Latin America and the Middle East. Shares hit new 52 week highs of $13.78 before closing the day at $11.66, up 2.10 percent.
Recommended: Should Traders Be Worried About Crimea?
Quote of the Day
"This 'referendum' is illegitimate, it has no legal effect, and we do not recognize its outcome. Any solution to this crisis must respect the territorial integrity, sovereignty and independence of Ukraine as well as the constitution of Ukraine. Mr. Putin's reckless and unilateral actions will lead only to Russia's further economic and political isolation from the international community." - Canadian Prime Minister Stephen Harper joining world leaders in denouncing Crimea's referendum.
View Comments and Join the Discussion!
Posted-In: 4G Phones 58.com aaron's Alibaba IPO Amazon Prime Baxter InternationalNews After-Hours Center Best of Benzinga