Will Lionsgate's 'Divergent' Become The Next 'Twilight' Or 'Hunger Games'?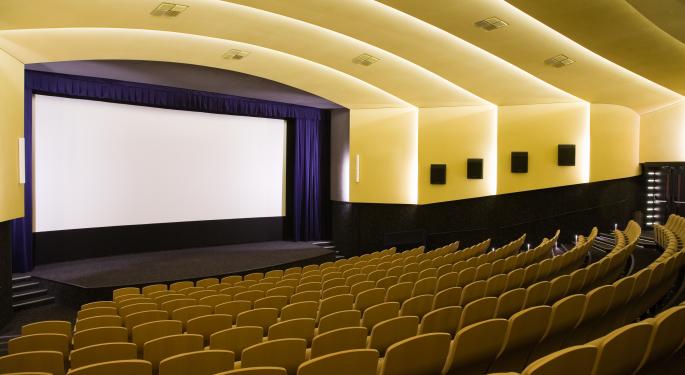 Lionsgate's (NYSE: LGF) The Hunger Games proved to be a big hit with moviegoers and investors alike.
But can the studio's next book-to-film franchise, Divergent, provide a similar degree of success?
Early media hype indicates the answer is, yes.
According to The Hollywood Reporter, Divergent "has a shot" at matching Twilight's $69.6 million debut in November 2008.
That might be a good start for other film studios, but it's a far cry from Lionsgate's last major debut. When The Hunger Games' opened two years ago, it earned an astonishing $152 million in just three days. The film went on to gross $408 million domestically and $691 million worldwide.
Fandango claims that Divergent pre-sales are outpacing the first Twilight film, but the ticket seller has made no comparison to The Hunger Games.
Related: Using Social Media To Cash In On Lionsgate And 'The Hunger Games'
In January, BoxOffice.com published its long-range forecast for Divergent. The site estimated  Divergent will earn $50 million during its first weekend. By the time the film leaves theaters, BoxOffice.com predicted it will have earned $120 million domestically -- $72 million less than the first Twilight.
A lot has changed since Twilight was released, however. When that film debuted, Summit was still an independent studio, and Lionsgate had yet to produce a massive hit. Lionsgate became a stronger, more powerful company when it acquired Summit two years ago.
That strength, coupled with the hugely profitable Hunger Games franchise, has enabled the studio to spend more on marketing. While many consumers have already been exposed to the results (Divergent hype is all over the Web), they may also encounter promos in one unexpected place.
"A mall shopper is five times more likely to go to a movie than the average person and three times more likely to go to a movie if [he or she] views a trailer," Michael Trepeta, CEO of Mobiquity, told Benzinga.
Mobiquity partnered with Lionsgate to drive mobile awareness using its mall-based proximity network, which delivers content via Wi-Fi and Bluetooth.
"We have the ability to offer a prompt to a mall shopper and see if they want to not only view the trailer but download the trailer," said Trepeta. "The studio seems to be very excited that it's five times multiple and three times multiple is their correct demographic. So they're very excited about that."
Related: Desperate For A Twilight Replacement
Trepeta believes that there will be an "added element of measurability" that studios can utilize as this technology continues to evolve.
"It all ties into the future of mobile, which…is big data and smart data integrating preferences and platforms," Trepeta added. "There comes a point where there's some really cool companies out there that can tell whether you should be delivering someone a text message as opposed to an in-app message or an e-mail.
"Since we have 24/7 access to physical units that are running all day along inside," he continued, "with over 100 million visits a month, we can provide really, really accurate indoor location data that can now be overlapped and overlaid with other data. So we play a pretty important role."
Can Mobiquity help Lionsgate transform Divergent into the next big blockbuster franchise? Investors should know the answer when the film opens this upcoming Friday.
Disclosure: At the time of this writing, Louis Bedigian had no position in the equities mentioned in this report.
View Comments and Join the Discussion!
Posted-In: comments Divergent entertainment LionsgateNews Psychology Tech General Best of Benzinga