Introducing Microsoft's New, Cheaper Office Suite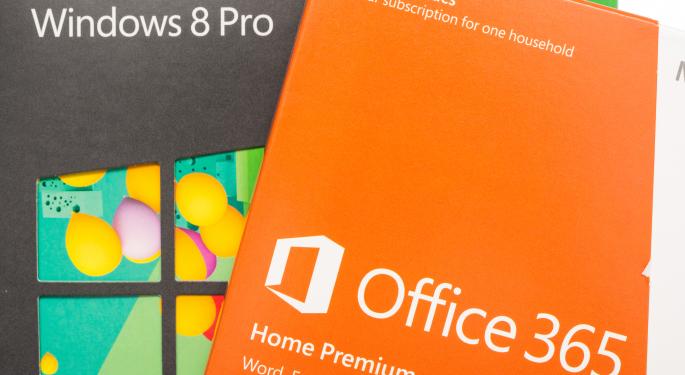 It's called Office 365 Personal and Microsoft (NASDAQ: MSFT) said Sunday the new cloud-based version of its popular productivity software would work just like the conventional program and include Access, Excel, PowerPoint and Word.
Office 365 Personal will sell for $69.99 a year or $6.99 a month according to Microsoft. Users would only be able to use the software on one PC or Mac and one tablet. Office 365 Home, by contrast, allows users to connect up to five computers and five mobile devices.
Microsoft has not been totally forthcoming about whether the new version of Office 365 would be available for non-Microsoft tablets. So far, Office 365 has only worked on Microsoft tablets. Both Apple iPad users and Google Android tablet owners have had to settle for other options.
Related: Report: Microsoft About To Slash Price Of Windows 8.1
That said, according to Reuters, iPhone and iPad versions of Office are ready, awaiting approval from new Microsoft CEO, Satya Nadella.
Microsoft has plenty of incentive to make Office available on non-Microsoft devices. The Reuters report points to a growing number of companies whose employees use their tablets and phones for productivity, moving to other apps that function in the cloud.
One analyst said Microsoft has been giving up as much as $2.5 billion a year in revenue just by keeping Office off the iPad.
Meanwhile a number of alternative apps are cropping up on i-devices, and Android hardware including Quip, Haiku Deck, Prezi, Paper and others – including Google Apps.
Part of the problem appears to be a lack of collaboration between the Windows and Office segments of Microsoft. Resolving these differences has to be high on CEO Nadella's to-do list.
The unification movement started with former Microsoft CEO, Steve Ballmer, who initiated the "One Microsoft" mantra last year.
Time, many analysts believe, is running out for Microsoft if it wants to maintain high usage of some kind of Office product in the workplace and at home.
Research firm, Ovum, said 57 percent of all employees use a personal smartphone or tablet to access job-related work. In addition, 70 percent of tablet owners use their personal tablet at work – at least to some extent.
This is the problem Microsoft is up against if it continues to refuse to port Office onto as many devices and platforms as possible, according to Adam Tratt, a former Office executive, now with Haiku Deck as reported by Reuters.
Tratt said, "Microsoft rose to dominance in an age when the CIO (chief information officer) really held the keys to IT decision making. Over the past five years, BYOD (bring your own device) has really eroded the level of control that many CIOs have."
At the time of this writing, Jim Probasco had no position in any mentioned securities.
Posted-In: Access Adam Tratt Android AppleNews Events Tech Media Best of Benzinga
View Comments and Join the Discussion!