The Fall of Ratings King 'American Idol'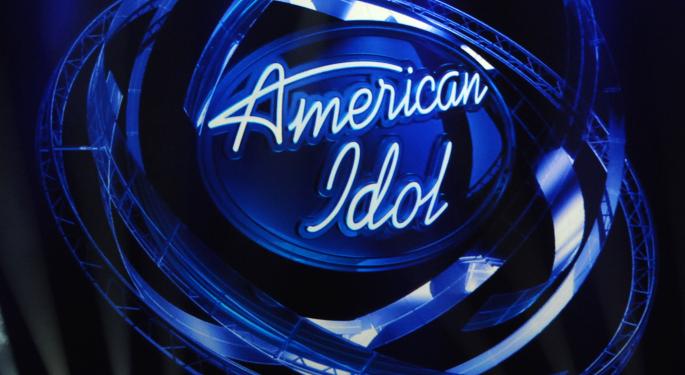 American Idol was once the hottest show on American television. But after 13 seasons and more than 400 episodes, the once-popular reality TV series is slowly turning into a ratings joke.
To be fair, American Idol is still one of the higher-rated shows. More than 10 million people tuned in to last week's episode.
That's more than virtually every other show on Fox (NASDAQ: FOX), including New Girl, Brooklyn Nine-Nine, The Following, Glee, The Mindy Project and others that have been renewed for next season.
In the '80s, it wasn't uncommon for the top shows to receive 20 million viewers. But in today's world, there are more channels producing original programs and more overall viewing options.
A recent episode of CBS' NCIS, which is arguably the biggest show on television, attracted 17.8 million viewers.
This does not include the number of people who may have watched the show on CBS.com.
Related: Amazon Paid $700K For Each Episode Of 'Under The Dome'
Nonetheless, those ratings are a far cry from the 27 million people who watched Dallas in the '80s.
That's what made American Idol so special. Like it or loathe it, few viewers could escape its wrath. The show dominated ratings for several years and put Fox on the map as a real player in network television.
Just three years ago the show was capable of pulling in as many as 25 million viewers for its season finale. Previous Idol finales have been watched by as many as 38 million viewers.
Related: 5 Better Uses For 'American Idol' Vote Cash
Surely this year's finale will draw in more viewers than the current week-to-week results. But the show is unlikely to achieve ratings that are anywhere near its all-time high. It may also be unable to pull in ratings that comparable to last year's season finale, which was only watched by 14.3 million people. Two years prior, more than 29 million people tuned in to see the last episode.
At the same time, NBC's The Voice -- another music competition -- has become tremendously popular. The premiere ratings have increased every year since the series began in 2010.
The latest season set a new ratings record for the show with more than 15.8 million viewers. That's nowhere near the all-time highs of American Idol, but The Voice is on a network that has only just begun to recover from a multi-year downturn. American Idol, on the other hand, is on a network that has been declining for several years.
Fox has high hopes for the return of one of its most successful shows: 24. After failing to produce a script that was up to snuff, Fox decided to delay the proposed 24 movie. Not long after, the network began toying with the idea of bringing the series back to TV in a new format. It wasn't designed to replace the 24 film, but would instead serve as a continuation of the series.
One show is unlikely to save Fox, however. And even if it could, that doesn't mean that American Idol will regain its momentum.
Disclosure: At the time of this writing, Louis Bedigian had no position in the equities mentioned in this report.
Posted-In: 24 American Idol CBS Fox NBCNews Success Stories Media Best of Benzinga
View Comments and Join the Discussion!