Themis Trading's Joe Saluzzi On How To Fix Wall Street's 'Plumbing'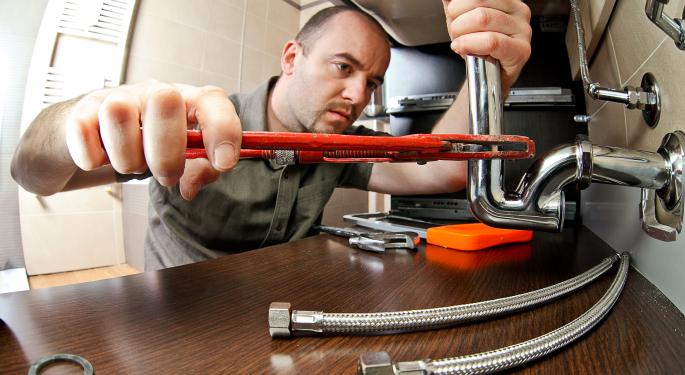 When your sink is clogged, you call a plumber.
When Wall Street gets clogged, you might want to talk to Joe Saluzzi, partner and co-founder of Themis Trading and co-author of Broken Markets: How High Frequency Trading and Predatory Practices on Wall Street are Destroying Investor Confidence and Your Portfolio.
Saluzzi believes that Wall Street's plumbing (the way orders are routed and filled) has become a serious problem for traders. He has been fighting for change and recently came on Benzinga's PreMarket Prep to discuss the issue.
"The real issue is not necessarily high-frequency trading but how the system has been built to basically allow a subset of traders who have access to speed -- whether it's location, data feed, special different information coming through -- to take advantage of the system, to game that system," Saluzzi told Benzinga.
Saluzzi was on a subcommittee for the U.S. Commodity Futures Trading Commission. He was asked to define 'high-frequency trading' (or HFT for short), but found that it was more difficult that anyone could imagine.
"High-frequency trading -- in itself, no one can even define the thing," said Saluzzi. "It's such a nebulous name. We couldn't even come up with a good definition."
Saluzzi, whose clients include mutual funds and hedge funds, think that it's time to start looking at these plumbing issues.
Related: How Tim Melvin Wins Big By Investing In 'Safe And Cheap' Stocks
"Let's start to get rid of some of the conflicts of interest," he added. "We think the market should help itself."
Case-in-point: Saluzzi doesn't want to see a 4,000 page rule proposal.
"That would take years and would probably be worse than what we have right now," he said. "We need to tweak around the edges."
Decimals Changed Everything, But They Are Not The Problem
Saluzzi acknowledged that decimals and sub-decimals changed everything, but he does not believe that they are a part of the problem.
"When decimalization came out, it was a good thing," said Saluzzi. "However, they never really kind of figured out that all stocks are different. What's good for Bank of America that trades at a penny a share spread and 50 million shares a day may not be good for XYZ stock that trades 50,000 shares a day.
"Maybe you need a little bit wider spread there to encourage more liquidity… There's nothing wrong with a decimal. That probably makes a lot more sense than an eighth or a quarter."
That said, Saluzzi thinks that decimalization with minimum fills or minimum increments might have been a better idea.
"What we're recommending, and we hope the regulators are listening -- don't allow people to sub-penny you within that spread," he said. "If I have a 10 cent bid offered at 15 cents, and someone can step in for a sub-penny, you've defeated the purpose entirely of the program."
Check out the video below for a recap of Joe Saluzzi's guest appearance on Benzinga's #PreMarket Prep show:
Disclosure: At the time of this writing, Louis Bedigian had no position in the equities mentioned in this report.
Posted-In: Benzinga Joe Saluzzi PreMarket Prep Themis tradingEntrepreneurship Success Stories Interview Best of Benzinga
View Comments and Join the Discussion!