Tag You're It! John Donahoe Strikes Back Against Carl Icahn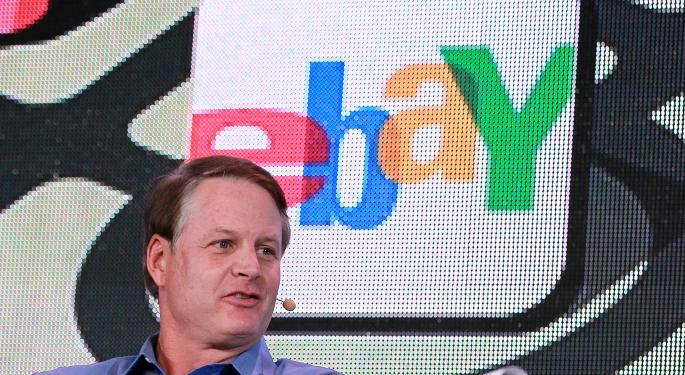 On Thursday, eBay Inc.'s (NASDAQ: EBAY) Chief Executive Officer, President and Director John Donahoe issued a letter and movie to employees applauding workers on their continued dedication despite media attention surrounding Carl Icahn's accusations.
Donahoe's Letter
Hello everyone,
I want to thank you for staying focused on delivering your goals and executing for our customers every day. You are not letting the media attention around our proxy fight and the accusations being made against our company distract you.
At the same time, I know that many of you have questions. Since our next One Company meeting is still a couple of months away (we'll hold it in May), I took the time to address key points in a short video. You can view the video on HubTV or download it via Box.
I hope you find this helpful. As needed, I'll keep you updated via video in the weeks leading up to our annual shareholders meeting in early May.
You also can visit our new external website that outlines our position clearly and simply. So take a few minutes to stay informed, but keep doing what you're doing — stay focused on running the business and delivering for our customers. That's what matters most.
Thanks,
John
Significant Statements by Donahoe in the Video to Employees
In the movie, John Donahoe continued to express his support on not spinning off PayPal. He commented, "You know, it's interesting. When I first became CEO in 2008, there were a lot of outside people that thought we should break the company apart. That we should spin off eBay, PayPal, and Skype, the three business units we had at the time.
"And so we went through a thorough assessment at that time about what was the best way to drive success with customers, in the market, and for shareholders.
"And as you know, we determined at that time that Skype was best apart. So we divested Skype. However, we felt that eBay and PayPal were better together. And look at what's happened over the past five to six years. Together we've driven enhanced value, greater growth, greater customer-centricity, and by doing that, greater shareholder value. Significant shareholder value over the last five years."
The CEO continued to stick to his firm belief on "doing the right thing." In furthering his investment to eBay, he specially orders the company's priorities on what is "right" for customers, then the employees, and thirdly, the shareholders.
eBay's President concluded, "I just want to wrap up by saying how proud I am of how all of you have not been distracted since Carl Icahn came onto the scene. And I want to thank you in advance for continuing to do that. The noise is going to get louder over the next four to six to eight weeks. Don't pay attention to the noise. Stay focused, and don't be distracted. That's the best way we can deliver for our customers, for ourselves, and for our shareholders. So thanks for listening, and I'll look forward to our next webcast in mid-May, after our Q1 earnings and our shareholder meeting."
Stock Action
Shares of eBay started to fall after 10:00 a.m. (EST) on Thursday hitting as low as $56.55, down 2.5287 percent. eBay is currently trading at $56.76, down 2.11 percent.
Posted-In: Carl Icahn John Donahoe PayPalNews Events Best of Benzinga
View Comments and Join the Discussion!